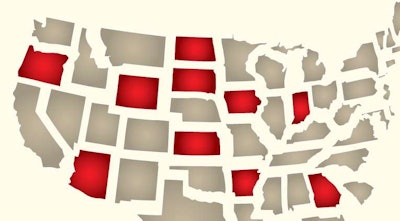 As a primer for some more in-depth reporting on FMCSA's Compliance, Safety, Accountability program set to be published on CCJ later this month, here's a look at the 10 states with the most hours-of-service violations:
All 10 states highlighted on the map above have enforcement programs that hit hours violations well above the 10 percent national average.
Here's another look at the 10 states, ranked in order by the percentage of driver-issued violations that are issued for hours-of-service related. The blue bar represents the percentage of total driver-issued violations that come from 30-minute break infractions:
Stay tuned to see more in-depth coverage on CSA and its data trail later this month.