CCJ Indicators rounds up the latest reports on trucking business indicators on rates, freight, equipment, the economy and more.
---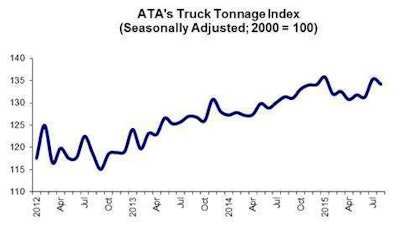 ATA reports tonnage decline: The amount of freight carried by the for-hire trucking industry in August, as measured by the American Trucking Associations' monthly Truck Tonnage Index fell 0.9 percent, ATA said this week.
However, it revised July's tonnage report up by 3.1 percent. The index was also up 2.1 percent from last August. And year-to-date, compared to the same time period last year, tonnage was up 3.3 percent.
Soft housing starts and falling factory output dampered August's freight, said ATA Chief Economist Bob Costello. "As I said last month, I remain concerned about the high level of inventories throughout the supply chain. This could have a negative impact on truck freight volumes over the next few months," he said.
---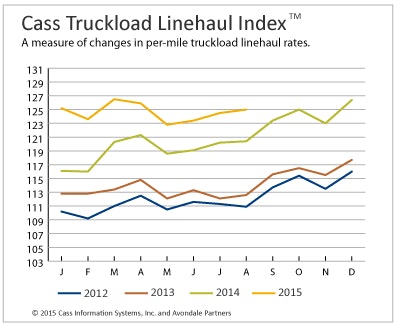 Linehaul rates jump: Continuing along their recent upward trajectory, truckload linehaul rates rose 3.7 percent in August, according to the Cass Truckload Linehaul Index, following up on 3.6 percent gains in both June and July. Though spot market rates have been declining in recent months, new contract rates have been moving higher, Cass said.
---

Spot market softens: The measure of available loads on the spot market compared to the number of trucks available tilted more toward truck availability in the most recent week, according to Truckstop.com's weekly Market Demand Index, signaling a softening of spot market demand. The overall MDI, however, still points to tightness in the market relative to truck and load availability. The index's 10.6 reading is well below the 19.6 reading from the same week last year, however.