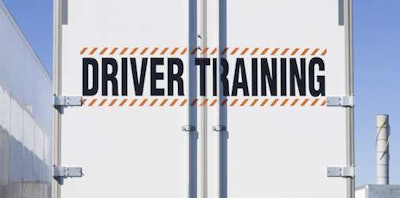 A federal rule proposal to implement minimum driver training and certification standards has moved a step closer to publication, according to a report published by the U.S. DOT last week. The rule was sent from the Federal Motor Carrier Safety Administration to the DOT's main office for its approval on Sept. 1, according to the report.
As reported by CCJ last week, the report also indicates delays to a rule to mandate electronic logging devices and speed limiters, with the former set for publication late next month and the latter still on tap for this month, according to the report. Click here to read more on those rules.
The agency's Entry-Level Driver Training rule has been in the works in some form for more than 20 years, with the latest Congressional call for action coming in 2012 with that year's MAP-21 highway funding act, which required FMCSA to produce the rule.
FMCSA tried to accelerate the rulemaking by producing it via a "negotiated rulemaking," which called on industry stakeholders from all corners of the the trucking industry to collaborate to produce the rule. A 26-member committee formed for the so-called "reg-neg" submitted its a 106-page report to FMCSA in June with recommendations for the rule, entry-level curriculums, behind-the-wheel time and more. Click here to read coverage of the committee's recommendations.
The DOT in its report also indicated the long-awaited Safety Fitness Determination rule, which will allow FMCSA to produce absolute safety scores for carriers as another means for targeted intervention, should clear the White House soon. The report says the proposed rule could be published as soon as Sept. 30.