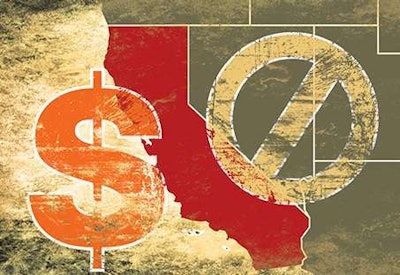 The California Air Resources Board announced last week it has re-adopted its Low Carbon Fuel Standard, which requires a 10 percent reduction in the carbon emissions of transportation fuels by 2020.
CARB originally approved the LCFS in April 2009, but it has been challenged in court by numerous trucking industry stakeholders in the years since, delaying its implementation.
CARB says the readopted version of the LCFS includes a number of modifications developed with stakeholder input, including:
Incorporating additional cost containment in response to concerns about possible price spikes by including a mechanism to cap LCFS credit prices
Streamlining the application process for alternative fuel producers seeking a carbon intensity score
Improving the process for earning LCFS credits by charging electric vehicles
"[Friday]'s action builds on years of successful implementation and will continue reducing carbon emissions from the transportation sector. Transportation is the largest source of greenhouse gases in the state," said CARB Chair Mary D. Nichols. "This program is a key element of California's plans to enact Governor [Jerry] Brown's executive order mandating a 50 percent cut in petroleum use by 2030."
The regulation is also intended to spur innovation for fuel use in the state, CARB says.
The carbon intensity of a fuel is determined by the sum of all GHG associated with the production, transportation, processing and consumption of a fuel, CARB says.
The LCFS doesn't require the use of a specific fuel, but it does require that regulated parties find a blend of fuel and credits that will meet the declining target each year.