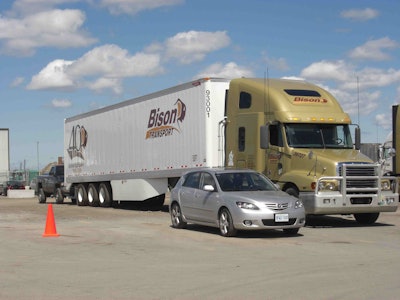 SkyBitz, a provider of remote asset tracking and information management systems, has been selected by Bison Transport, one of the largest carriers in Canada. Bison chose to implement SkyBitz to help get better utilization out of its fleet of trailers and reduce its trailer counts.
According to the announcement, SkyBitz was chosen because of product reliability, intuitive web services, customer service, and the convenience of a subscription platform that eliminates any upfront capital investment.
Bison Transport tested SkyBitz products during one of the worst winters in 150 years in Canada and unlike other less rugged products, SkyBitz devices worked reliably even in the harshest conditions.
"We selected SkyBitz because of its reputation in the industry for being a progressive company that continues to stay at the leading edge of technology. We wanted a partner that's going to continue to anticipate our future needs," said Nathan Enns, maintenance manager of process and data at Bison. "In the past, there was potential for our drivers to spend unnecessary time searching for a trailer in one of our yards. With SkyBitz, our operations group are able to help drivers find trailers in a much more efficient manner."