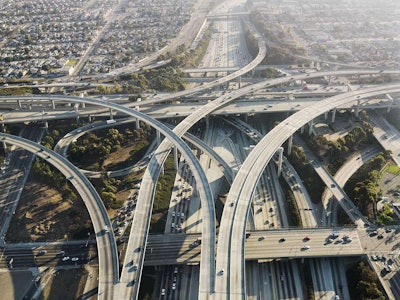 According to a recent survey commissioned by the American Trucking Associations, 60 percent of survey respondents said they have a favorable view of the trucking industry.
The survey, conducted Sept. 20-24, 2014, and Aug. 30-Sept. 1, 2015, polled 800 registered voters about federal spending, road and highway conditions and repair, industry image, trucking safety and more.
The survey found that, of the 800 voters polled, 69 percent oppose the lowering of highway speed limits for both cars and trucks to improve safety and reduce emissions, and 63 percent of those surveyed opposed speed limiters on passenger cars. However, 56 percent were in favor of speed limiters on trucks.
In contrast, the survey also found 81 percent of those polled said truck drivers are safer than passenger car drivers on the highways, and 70 percent said passenger car drivers are more likely to cause a crash between a car and a truck.
When it comes to transportation infrastructure, the survey found that 60 percent of those polled said the federal government should be spending more money on roads, second only to K-12 schools (64 percent). The funding for the roads, highways and bridges, though, should come from state governments, according to 53 percent of survey respondents.
All segments of those polled found the trucking industry more favorable than the railroad industry except Democrats and voters in the Northeast. Fifty percent of Democrats had a favorable view of the railroad industry, compared to just 44 percent with a favorable view of the trucking industry, and 55 percent of voters in the Northeast view the railroad industry favorably, compared to just 51 percent for the trucking industry.
According to the survey data, the first three positive things that come to mind when thinking of the trucking industry were "dependable and efficient for the transportation of goods," "provides thousands of jobs," and "hard-working drivers."
The top negative things found in the survey were "damage to infrastructure," "safety concerns (overworked drivers)," "traffic congestion" and "negative environmental impact."