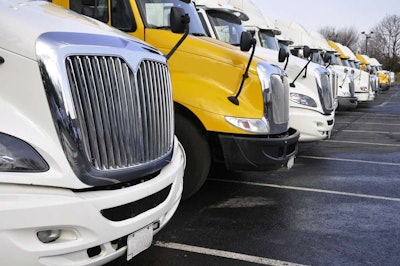 An influx of used sleeper tractors to the marketplace has caused prices to plummet.
Model year 2013 trucks have been hit hardest, shedding 15 percent of their wholesale value this month. Other model years have suffered as well, spreading a similar loss over two months.
"Less than 100 trucks sold over the course of a few weeks may not seem like a lot, but when those trucks are basically identically-spec'ed, it's more than the market can bear," says Chris Visser, Senior Analyst and Product Manager, Commercial Vehicles, NADA/ATD.
Visser says, given recent record levels of new truck orders, he had been expecting a price drop on used models, but he expected it to hit a long time ago.
"With new truck deliveries being high for the last year and a half, we expected it. The industry has known the continued increase in deliveries of new trucks would eventually result in a critical mass of trade-ins," he says. "The fact this started out of nowhere in August was a surprise. But a lot of it had to do with inventories at dealerships piling up."
The wholesale influx of late model equipment in October came from a few large fleets and dealers looking to get used inventory off their books before year end.
"Inventory has been building up in recent months, and dealers don't want to carry these units over into next year," Visser says.
Depressed used pricing on the wholesale/auction market is likely hitting dealership lots right now. Visser says he expects retail prices to fall by upwards of 9 percent when the books close on October 2015.
Retail demand for late model used trucks is likely to return in the early part of next year, Visser says, but the fortunes of the auction channel is more clouded.
"If dealers don't need any more inventory," he says, "this correction might stick around."