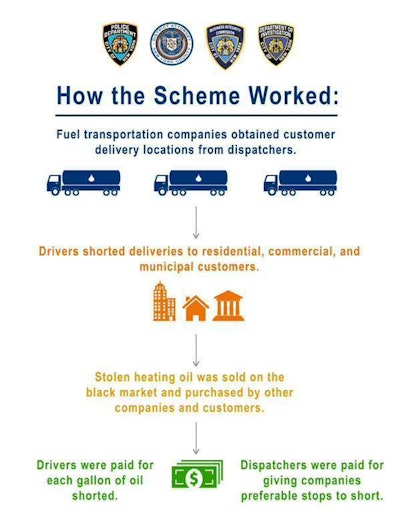 Twenty-nine truckers, three dispatchers and nine heating oil companies were among the 44 indicted in a multi-million-dollar scheme that shorted New York City customers ranging from a homeless shelter to police departments.
On Nov. 10, District Attorney Cyrus R. Vance, Jr. announced the New York State Supreme Court indictments for participation in the theft, resale and purchase of stolen heating oil. Drivers received money for each gallon shorted and dispatchers were paid for giving companies preferable stops to short customers.
At least $4 million of the $18 million stolen annually was from city customers such as law enforcement. But both residential and commercial customers were affected and the shorted delivery points included hospitals, schools and mom-and-pop operations.
Law enforcement retained 48 of the 58 trucks from eight companies seized as evidence.
The multi-agency investigation began with a whistle blower tip in February 2013.
The indicted heating oil transportation and retail companies include: F&S Distribution, Inc., G&D Petroleum Transportation, Inc., G&D Heating Oil Inc., Casanova Fuel Oil, Inc., Express Petroleum, Inc., 4th Avenue Transport, Inc., All-Boro Transportation, Inc., Enterprise Transportation, Inc. and Century Star Fuel Corp.
Heating oil consumers usually order directly from retailers, which use transport companies to deliver. The transport companies are responsible for delivering oil to locations supplied by the retailer or terminal. They then print delivery tickets for customers as proof of delivery.
How the scheme worked: pic.twitter.com/IIhCjb68Ks

— Cyrus Vance, Jr. (@ManhattanDA) November 10, 2015
However, varied methods were employed to short customers, rig tanker truck meters, evade regulatory controls, and conceal the true amount delivered. This included:
Installing a bypass valve that diverted heating oil to a hose leading back into the truck's tank.
Using a ball valve in the truck's rear compartment, allowing air to pass through the pump instead of oil. A magnet was then used to manipulate the meter's air eliminator, which also allowed air to flow through the meter instead of oil.
Investigators recorded one driver "mockingly describing how he fooled a building manager into unknowingly shorting his own fuel delivery – by throwing the lever that filled his own tank with air."
The oil yielded from shortening was later sold to other customers and oil companies at significantly reduced prices. Three of the companies –Casanova Fuel Oil, Inc., Century Star Fuel Corp. and G&D Heating Oil Inc.— concealed the resale of stolen and are charged with failing to accurately and correctly file NYC petroleum business tax returns or remit collected sales taxes.
The Manhattan District Attorney's Office's Asset Forfeiture Unit has also filed seven civil lawsuits against the indicted defendants, seeking forfeiture for the purposes of restitution for the victims.
The scheme could result in the New York City Business Integrity Commission expanding its authority to have oversight over all companies delivering hating oil to city customers.