The race among technology providers to offer the full suite of connectivity is more a sprint than a marathon. During the past few years, very large investment firms have acquired software companies in rapid succession and brought them together to offer a ready-made platform.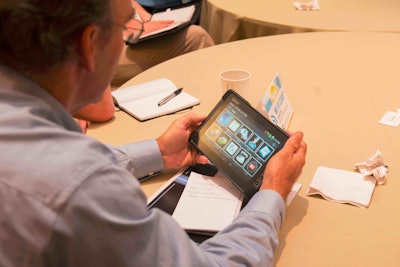 Trimble, for instance, acquired fleet mobility provider PeopleNet in August, 2011, followed by TMW Systems in 2012 and its transportation management software (TMS) properties. TMW had previously purchased Appian Logistics for its final-mile route planning applications.
Trimble then completed its new Transportation and Logistics portfolio in 2013 by acquiring ALK Technologies' mapping and turn-by-turn navigation software.
Vista Equity Partners entered the race with the acquisition of Omnitracs and Roadnet Technologies in December, 2013. Omnitracs supplies mobile applications and hardware primarily for over-the-road fleets and Roadnet develops routing and fleet management software for private fleets.
Less than a year later, Omnitracs purchased XRS Corp., to broaden its reach to fleets seeking out-of-the cab, smart device-based applications.
Roadnet already had an app that runs on handhelds, including smartphones and tablets, called MobileCast. The app presents the route and delivery sequence to drivers along with details about the order and customer at each stop. Since the acquisition by Omnitracs, Roadnet says it has been rapidly deploying new features to its SaaS fleet management platform with integrating routing, dispatching, telematics, customer notifications and analytics in a single, web-based tool.
The market opportunity that these and other companies are trying to capitalize on by bringing together routing, TMS, mobility and navigation applications is to give fleets a customer service and cost advantage. When the systems are disconnected, fleets are less likely to have the information they need all at once to make real-time adjustments to routes and analyze their cost and performance metrics, says James Stevenson, vice president of sales for TMW Systems.
Besides offering up an integrated routing package to a broad spectrum of clients, some are also creating specialized packages for different segments of the market. Trimble, for instance, recently announced an integrated suite for fleets that service well sites in the oil and gas industry. The suite brings together applications, data and services from all of its T&L properties.