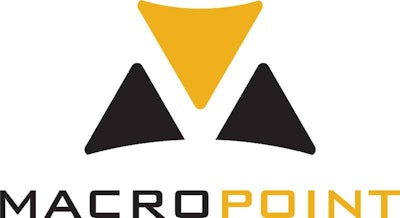 MacroPoint, creators of patented freight tracking software designed to give 3rd party visibility into load status by tracking the location of a driver's mobile phone, including flip phones, or existing in-cab ELD/GPS devices, announced a long-term agreement with Kirsch Transportation Services.
The non-asset based logistics provider made the decision to enable MacroPoint across its entire network of more than 10,000 motor carriers.
"We decided to enable MacroPoint on as close as possible to 100 percent of the loads we broker at no charge to our customers," said Jeremy Becker, executive VP at Kirsch Transportation Services. "In our initial experience with MacroPoint tracking more than 1,500 loads on select accounts for the past two years, we saved about five minutes per load by not having to make check calls and confirm pickups and deliveries with drivers.
"We view MacroPoint as an investment rather than an expense, and as a value added part of our service offering that gives customers peace of mind," Becker added. "We anticipate MacroPoint will be used to track between 450 and 500 loads per week and will drive an uptick in business with both current and new customers."
Headquartered in Council Bluffs, Iowa, Kirsch Transportation Services is a minority and woman-owned family operated non-asset based logistics provider. The rapidly growing company has doubled its sales volume over the past two years brokering a 50/50 mix of dry van and flatbed loads.
Kirsch also recently invested in the PowerBroker freight brokerage operations management system from McLeod Software, which is integrated with the MacroPoint load tracking solution. Once fully enabled, the company will provide shippers with access to load location by issuing them a separate sign on to MacroPoint.