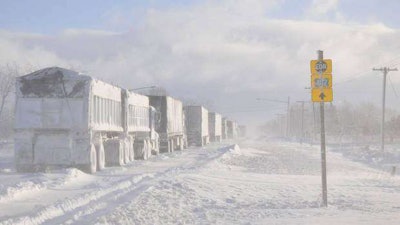 Omnitracs, a provider of fleet management technologies, released a list of tips designed to encourage safe driving behavior, vehicle maintenance, and driver health and wellness during the winter months.
"As winter approaches, we want to equip fleets and their drivers with the best information available for increasing safety on America's congested and frequently traveled roads," said Dean Croke, vice president of analytics at Omnitracs. "With fewer daylight hours and compromised road conditions, seasonal weather creates many challenges for truck drivers. Using data and advice from experts, our team has developed a great list of tips that we hope will go a long way to reduce the effect of the challenges drivers face this time of year."
On average, 467 fatalities are associated with icy driving conditions annually, and 23 percent of vehicle crashes– 1.3 million–are caused during inclement weather. The below list outlines Omnitracs' top tips for avoiding dangerous situations.
Driving Safety:
Remain vigilant in managing Hours of Service.
Slow down and be cautious in adverse weather such as rain, sleet, snow, fog and wind.
Minimize distractions.

Wait until parked to use hand-held devices.
Take advantage of features like Omnitracs' in-motion user interface to ensure safe interaction with mobile fleet management technology.

Plan alternate routes and allow for extra time in case of road closures.
Always buckle up; safety belts reduce the risk of fatal injury by 45 percent.
Vehicle Maintenance:
Maintain tire traction and health with Tire Pressure Monitoring and Trailer Tire Inflation Alert; in one of 11 crashes, there was an issue with a tire before the crash occurred.
Look for uneven patterns on tires, these are a great indicator of uneven wear caused by poor alignment, worn bearings and/or kingpin wear (steering axle).
Look for steam or melted snow coming off wheel hubs, as this could be a signal for over-heating wheel bearings.
Leverage the Vehicle Inspection Report application to ensure all vehicle systems are in top condition and preempt on-road mechanical issues.
Check battery charge and windshield wipers, keep windows clean for maximum visibility, monitor anti-freeze levels and put no-freeze fluid in the washer reserve.
Use white snow to check for fluid leaks after you have been parked for a while.
Driver Health:
Keep extra water and non-perishable food in the cab; dehydration and malnourishment can cause weakness, dizziness, confusion, sluggishness, fainting and more.
Use sun sleeves, window covers, sunglasses and protective clothing in daylight to avoid the deceptive winter glare.
Be wary of seasonal affective disorder, a common ailment in which reduced sunlight negatively affects mood and other mental health issues.