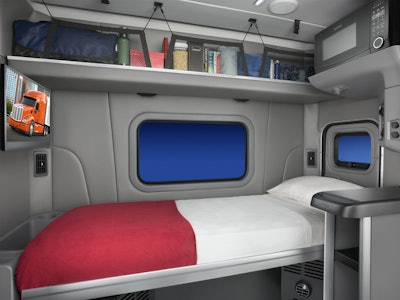 Peterbilt's 58-inch sleeper is now in production for the company's Model 579 and vocational Model 567 in low- and mid-roof configurations.
The new sleeper includes a full-length door to help facilitate loading personal belongings from outside the truck. Integrated sleeper extenders also minimize trailer gap and improve aerodynamic efficiency, Peterbilt says.
"Peterbilt's 58-inch sleeper is ideal for short- and regional-haul operations where less weight and a shorter wheelbase are critical," said Robert Woodall, Peterbilt assistant general manager of sales and marketing. "It includes all of the amenities found in Peterbilt's larger sleepers, including ample storage, driver comforts and exceptional fit and finish for quality rest and off-duty time."
Other sleeper features include a television mount, refrigerator and microwave shelf.