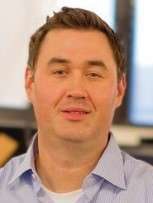 project44, a Chicago-based transportation technology company, has hired the former president of LTL services and senior vice president of operations at Coyote Logistics, Tommy Barnes, as President. Barnes has played an active role on the company's advisory board since its founding in 2014.
While at Con-Way, Barnes was the president of its multimodal brokerage operation for four years and was responsible for managing approximately $2.4 billion in freight with carriers across all transport modes within the Con-way networks. Barnes most recently led strategic procurement, directed technology investments and guided operational performance for Coyote's LTL division.
"Adding Tommy to the project44 executive team is a strategic move, as he's fulfilled integral roles at leading transportation companies like Coyote and Con-Way," said CTO and co-founder of project44, Wally Ibrahim. "Tommy brings a wealth of industry experience and extensive leadership to the table which will propel project44's technology services throughout the industry."
In his new role, Barnes is tasked with driving the future of project44's portfolio of freight API products through relationship development with carriers, shippers and 3PLs and forging strategic partnerships with TMS and other technology platforms.
"project44 is an emerging brand that is not only providing much needed state-of-the-art technology services to an outdated transportation industry, but it's also led by a deeply knowledgeable team," said Barnes. "It's extremely exciting to officially come on board with project44, as I feel this technology, paired with intelligent leadership and deep industry knowledge, is going to transform what we know about freight transportation."
Barnes rounds out an executive team consisting of Wally Ibrahim and executive strategist Chris Helton. Before co-founding project44, Ibrahim developed large-scale commerce solutions for retail distributors and manufacturers and Helton joined the team as chief operating officer after a career with Accenture, where he led consulting teams to craft and execute business strategies for some of the world's largest companies.
project44 provides real-time freight management through a portfolio of products focused on helping carriers, shippers and third-party logistics companies successfully operate in today's competitive market. The company has experienced tremendous revenue growth, noting a record-breaking 12 times increase this month.