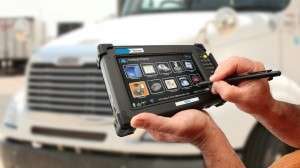 PeopleNet, a provider of fleet mobility technology, will host a free webinar, "PeopleNet Explains the ELD Mandate," on Thursday, January 7 at 1:00 p.m. (CST) to discuss the recent publication of the Federal Motor Carrier Safety Administration's (FMCSA) Electronic Logging Device (ELD) Mandate Regulations.
Elise Chianelli, PeopleNet's director of safety and compliance, will cover key points of the final ruling, highlighting technical requirements and procedures, and will facilitate a question and answer session with webinar attendees. To register, visit https://www.peoplenetonline.com/peoplenet-to-host-eld-mandate-webinar-on-january-7/.
The FMCSA published the final ELD Mandate on December 16 with the intent of creating a safer work environment for drivers, and making it easier and faster to accurately track, manage, and share records of duty status (RODS) data. With the implementation of these new standards, officials hope to reduce the amount of crashes, injuries and fatalities on the road.
"The trucking industry is entering a different landscape," says Chianelli. "For several years we have anticipated a rule, and now that the rule has been finalized, companies must begin to implement ELDs to ensure compliance."