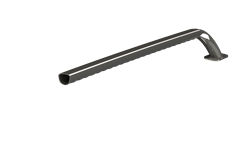 Correctly placed, a grab handle can be the difference in effortlessly bouncing up in your cab or looking like a monkey shimmying up a tree for a banana.
But the wind-noise they can create at highway speeds often doesn't seem worth the leg-up on long trips.
That could be why a hydroformed stainless steel truck grab handle manufactured by Athens, Tenn.-based metal fabricator Mills Products Incorporated has won the 2015 Paccar Inventor's Award.
A popular option on Paccar trucks since its launch in March 2014, the hydroformed stainless steel grab handle reduces wind noise compared to the standard grab handle offered on Paccar trucks, the company says, and can withstand more than 4,000 lbs. of pull force, exceeding the OEM's requirements by more than three times.
Paccar noted Mills's tubular hydroforming expertise not only facilitated the product's noise-reducing aerodynamic shape and contoured finger grips, it also consolidated production's tooling requirements into a single step and reduced tooling costs for the project by 32 percent.
The grab handle competed against submissions from Paccar's global staff of 22,000 in the annual competition to identify the most inventive project of the year.