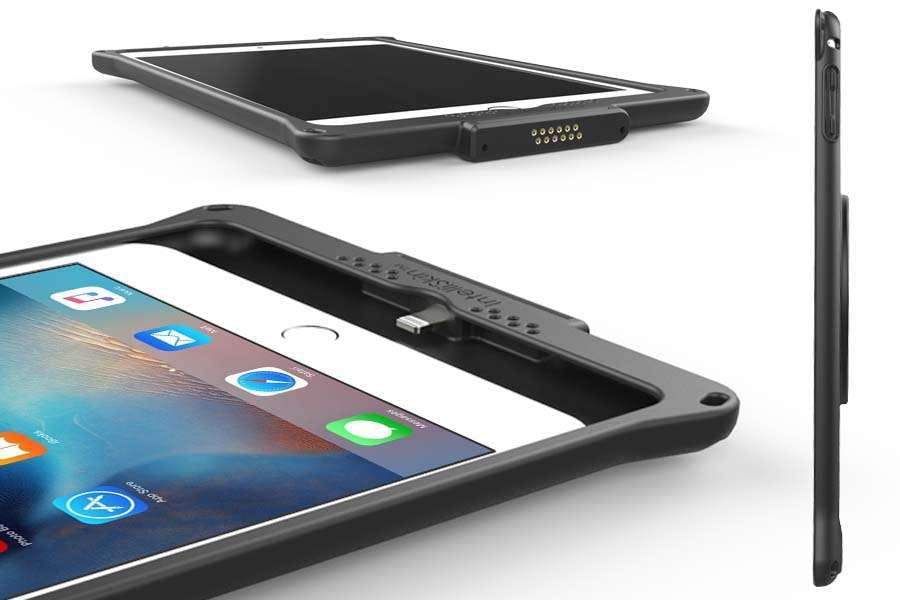 RAM Mounts announced that its IntelliSkin protective device case is now available for the entire lineup of current Apple tablets and phones from the iPhone 6 to the iPad Pro.
IntelliSkin features an integrated power connector compatible with any GDS charging dock. This prevents damage to the device charging port and creates a universal docking platform compatible with any device wrapped with an IntelliSkin case.
According to recent research, Apple's iOS accounted for 66 percent of enterprise device activations for the third quarter of 2015. IntelliSkin ruggedizes the consumer devices that are permeating business and adds functionality by simplifying the frequent docking and undocking of smartphones and tablets.
"Warehouse workers can now keep devices charged and data synced, farmers can have crop data at their fingertips while planting fields and students can have their tablets at the ready for the next assignment," said Aaron Hersey, vice president of sales and marketing at RAM Mounts. "IntelliSkin with GDS Technology ensures that the valuable tablets and phones that permeate our daily lives are protected during heavy use."
The line of IntelliSkin for iOS will be available for iPhone 6/6s, iPhone 6+/6s+, iPad Air, iPad Mini and iPad Pro. The IntelliSkin for iOS will begin shipping by the beginning of March and pre-orders are available now.
The thick corners of the Intelliskin for Apple tablets allow for the attachment of a neck or shoulder strap accessory while also providing extra drop protection to the device. The IntelliSkin for tablets also includes an integrated feature to add a handstrap and kickstand feature, the iPad Pro integrates a holder for the Apple Pencil as well.
IntelliSkin for iOS devices are designed to work with RAM Mounts' GDS Technology. GDS creates a uniform platform for connecting a variety of portable devices with power and data communication regardless of make and model. RAM Mounts' GDS platform provides compatibility with many different devices. Plus, it offers docking stations with scalability as smartphone and tablet manufacturers introduce new generations of devices.
The IntelliSkin family of cases are currently available for Android-based phones and tablets such as the Samsung S5 and S6, Samsung Galaxy Tab S 8.4 and 10.5, Galaxy Tab 4 7.0, 8.0 and 10.1, Galaxy Tab A 8.0 and 9.7, Galaxy Tab Active 8.0, Galaxy S2 8.0 and 9.7, Tab E 9.6 as well as the Microsoft Surface 3.