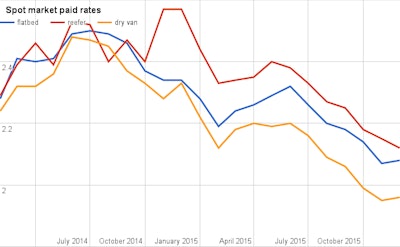 Van and flatbed rates in December rose, albeit slightly, for the first time since June 2015, according to monthly spot market rate data from Truckstop.com, while reefer rates fell for the seventh straight month.
A major drop in diesel prices, along with a general decline in freight demand, have been forcing rates downward since late 2014, a year that saw record-setting per-mile rate averages in all three segments.
Paid rates, verified rate averages paid to carriers, in van and flatbed segments climbed a penny in December, while paid reefer rates fell three cents, according to Truckstop.com's data.
Paid reefer rates in the month averaged $2.12, down 47 cents from the same month last year. Reefer rates have fallen 26 cents from their most recent peak in May 2015 and have fallen every month since. Posted reefer rates — "offer rates," essentially, from brokers and shippers — averaged $1.95, a 2-cent drop from November.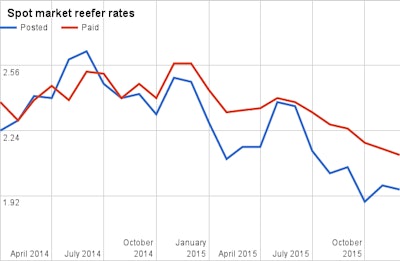 Paid van rates in December averaged $1.96, down 37 cents from December 2014 and 24 cents from 2015's $2.20 high in June. Posted rates in December were unchanged for dry van, $1.71.
Paid flatbed rates averaged $2.08 in December, Truckstop.com reported, down 26 cents from last December and 24 cents from flatbed's 2015 high in June. Posted rates, meanwhile, fell 5 cents from November.