CCJ's Indicators rounds up the latest reports on trucking business indicators on rates, freight, equipment, the economy and more.
---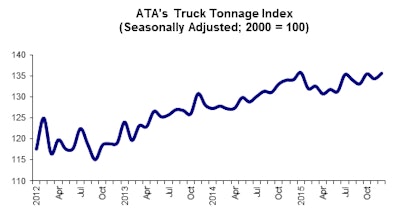 Tonnage climbs, nears high mark: Truck tonnage in December climbed 1 percent from November, according to the American Trucking Associations' monthly Truck Tonnage Index, released Jan. 19. December's increase pushed the index's reading to just a tenth of a percent below the all-time high registered last January.
2015's tonnage total was 2.6 percent higher than 2014, according to ATA's index, and December 2015 tonnage was up 1.1 percent compared to the same month in 2014.
Despite the end-of-year uptick, ATA Chief Economist Bob Costello said 2015's small monthly gains point to "a clear deceleration" in freight movement, he said, and said tonnage could begin to face even more headwinds soon.
"The total business inventory-to-sales record is at the highest level in over a decade, excluding the Great Recession period. This will have a negative impact on truck freight volumes over the next few months at least. And, this inventory cycle is overriding any strength from consumer spending and housing at the moment" he said.
---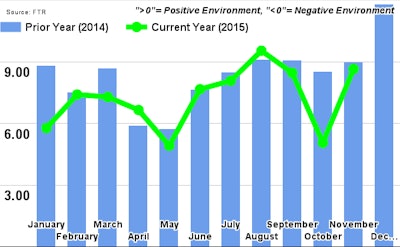 Trucking conditions on the upswing: FTR's monthly Trucking Conditions Index jumped in November, based mostly on a strongly positive 2016 outlook, FTR said. November's index increase stems from a "reflection of the improvements expected for truckers in 2016," FTR says, citing "worry among shippers about tight capacity to grow" in the year's second half.
That expected tightening of capacity, says FTR's Jonathan Starks, could put upward pressure on rates, especially in light of several big regulations set to take effect in 2017, including ELDs and, potentially, speed limiters.
Mixed economic signals, however, present a cloudy picture of where freight growth's headed, Starks says. "Our initial take for 2016 is to expect some more of the same — modestly tight conditions in contract segments and somewhat looser conditions for spot activity," Starks said. "However, with the economic data not clearly pointing to an acceleration in growth, [carriers'] position is somewhat tenuous, and the downside risks do seem to be increasing."
---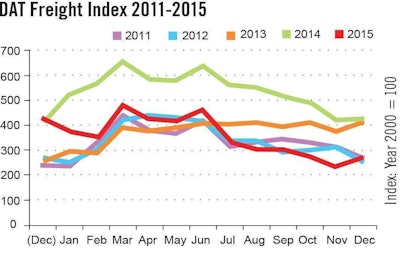 Spot market freight rebounds: Freight volume on the spot market climbed 15 percent in December from November, DAT reported this week. Van freight demand climbed 19 percent, flatbed 7.4 and reefer 13 percent, DAT's report shows. Linehaul rates, the base part of truckload rates, followed suit, climbing 2 percent for dry van in December, 2.3 percent for reefer and 1.8 percent for flatbed.