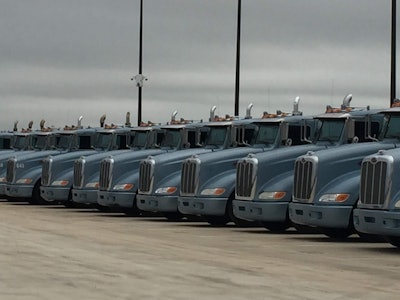 Supplies of Class 8 trucks are rising faster than demand according to the most recent ACT For-Hire Trucking Index from ACT Research.
The glut of trucks, according to Steve Tam, ACT's vice president, commercial vehicle sector, has been triggered by the capacity index (supply), which in December rose faster than the freight index (demand) for the fourth consecutive month, and the tenth time in the past 12 months.
"We have to go back to the second half of 2012 to find a comparable period of imbalance," he says, "a period marked by anemic economic growth and strong U.S. Class 8 retail sales."
Tam adds carriers have caught on to the fact that there is excess freight hauling capacity in the market and have started cutting their purchases accordingly.
"Sales are likely to continue on a downward trajectory until the oversupply of trucks is consumed," he adds.
Volvo, Mack and Freightliner have each announced layoffs at their respective assembly plants in reaction to bloated supplies and a truck sales forecast this year that is expected to fall marginally below 2015.