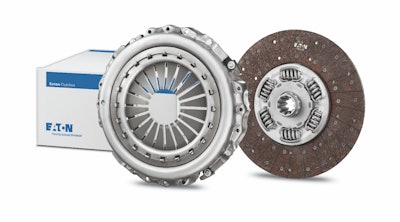 Eaton has added clutches for Volvo's I-Shift automated transmissions to its aftermarket clutch portfolio.
Introduced Tuesday in Las Vegas at Heavy Duty Aftermarket Week, the Eaton 430mm Push Wear-Thru clutch will be competitively priced, the company says, and includes the same quality engineering and manufacturing features of the company's aftermarket line of EverTough clutches.
Eaton has been selling various versions of 430mm clutch products in other regions of the world for both manual and automated applications since 2000, and will begin shipping the clutches to North American customers this March.
Made with all new components to meet OEM quality and durability standards, Eaton 430mm clutches also feature a high-strength stamped steel bracket, robust diaphragm design and premium organic driven disc facings. The clutches are maintenance-free, adjustment-free and lubed for life, which reduces service time and saves money for users, the company says.