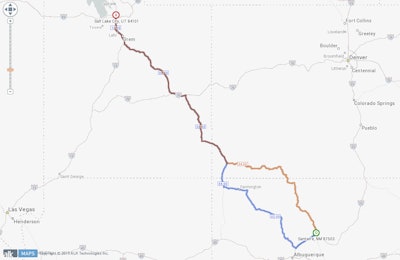 ALK Technologies, a Trimble Company, announced that ALK Maps is now available within the Oracle Transportation Management Cloud and on-premise versions 6.4.0 and higher. ALK is a Gold member of the Oracle PartnerNetwork.
The asset and route visualization platform, ALK Maps, allows the Oracle Transportation Management user base of shippers, private fleets, and logistics service providers to assess route plans for decision-making and overall network optimization. Users can customize the map display with stop markers, colors for mode types and status, and line styles.
Per the announcement, ALK says Oracle Transportation Management Cloud customers can also benefit from:
Real-time supply chain visibility of orders, in-transit loads, facilities and freight status, including estimated times of arrival.
Customizable route plans for greater resource utilization.
Enhanced lane and bid analysis.
Live traffic and weather overlays allowing users to identify potential pickup and delivery impacts.
Improved operational consistency and productivity for Oracle Transportation Management Cloud customers using PC Miler as their External Distance Engine (EDE)
In addition, ALK Maps provides worldwide street-level data, a satellite map style with street-level display, and the ability to geocode custom places for precise location needs.
"ALK Maps can help extend Oracle Transportation Management Cloud customers' experience when visualizing, monitoring or planning shipments and assets," said Rishi Mehra, director of web products at ALK Technologies.