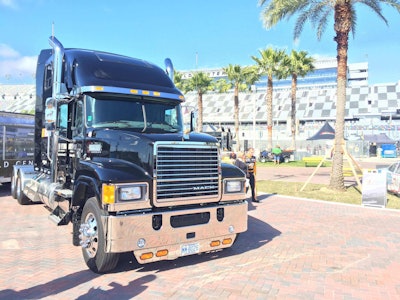 Mack Trucks announced Tuesday a multi-year partnership with NASCAR where the Greensboro, N.C.-based truck maker becomes the sport's "official hauler."
As part of the partnership, Mack has provided NASCAR with a fleet of 11 custom spec'd Mack Pinnacle trucks, which the racing body will use to haul raceday equipment to the circuit's 36 stops throughout the 10 month long season.
"I think it's really good from a brand alignment perspective, but we also intend to use this as a way to grow our business," says John Walsh, Mack Trucks vice president of marketing, calling both Mack and NASCAR "fundamentally American brands."
Walsh noted NASCAR fan loyalty, as well as their loyalty to the racing body's brand partners, as benefits Mack saw in the partnership.
"And (the fan base) includes transportation industry decision makers and truck drivers," he says.
Additionally, Mack Trucks joins the NASCAR Fuel for Business Council, which brings together an exclusive group of nearly 60 Official NASCAR Partners four times per year to construct customized deals that help address specific business needs.
NASCAR's Mack Pinnacle models embarked on their maiden voyage to NASCAR's season-opening race, the Daytona 500, at Daytona International Speedway in Florida.
Each truck was spec'd with Mack's MP8 13 liter 505 horsepower engine and mDRIVE automated manual transmission, and they are expected to log more than 65,000 miles each over the course of the season hauling NASCAR's inspection equipment, templates and other raceday necessities.
"There are very few people out there who can do for us what Mack Trucks is doing for us," says Steve Phelps, NASCAR's vice president of marketing. "Mack was able to fulfill a specific need for us."
The fleet is also armed with Mack GuardDog Connect, a telematics system that proactively monitors critical fault codes that could shut a truck down and will be monitored by the Mack Uptime Center. Support for the fleet of Pinnacle models will be led by Transource Truck & Trailer Center, a Mack dealer with seven locations across North Carolina.
Mack partnered with Transource in providing the trucks.