UPDATE: Thursday, Feb. 25, 3 p.m. Central: I-70 through Glenwood Canyon will open to two-way traffic at 4 p.m. local time Thursday. Colorado DOT said a pace car in each direction will lead traffic to maintain a safe speed as vehicles travel through the canyon on the eastbound lanes in a head-to-head configuration.
CDOT said traffic volumes have been running high in the morning and evenings during the current single-lane pilot car configuration, but it expects traffic to ease up as the interstate will now be open throughout the day.
Crews will continue working on rockfall mitigation, and motorists can expect periodic traffic holds as necessary between 9 a.m. and 4 p.m. until work is complete. A 10-foot width restriction remains in place all times of day.
Delays of up to one hour should be expected with the two-way pace car configuration.
The Colorado Department of Transportation reopened I-70 through Glenwood Canyon to pilot car operations Sunday night, Feb. 21, through 9 a.m. Monday after a rockslide shut down the Interstate Monday, Feb. 15.
Beginning Monday, until CDOT deems it safe for complete reopening, the canyon will be completely closed to traffic, including pilot car operations, from 9 a.m. to 4 p.m. daily. Pilot car escorts will operate between 4 p.m. and 9 a.m.
CDOT added it has placed 10-foot width restrictions on oversize trucks going through the canyon during pilot car operations.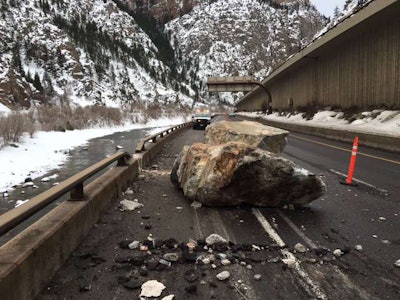 As of Sunday night, CDOT said approximately 400 tons of rock have been mitigated from the site, including three boulders Sunday in the two to five ton range.
CDOT, in its most recent update, gave the following alternate routes to get around the interstate closure:
•Front Range motorists heading west – US 40 north (Steamboat Springs) west on US 40 (Craig) south to CO 13 (Rifle)
•Summit County/westbound motorists – CO 9 (Silverthorne) to US 40 (Steamboat Springs) west on US 40 (Craig) south to CO 13 (Rifle)
•Eagle County/westbound motorists – CO 131 at Wolcott to Steamboat Springs, west on US 40 to Craig, then south on CO 13 to Rifle and back to I-70. This is a 203-mile alternate route that will take about three hours and 50 minutes to travel. This detour adds 146 miles and about three hours to a regular trip from Wolcott to Rifle on I-70, which is 67 miles or about 45 minutes.
•South alternate route – Uses US 50. Access to US 50 is available via Grand Junction for eastbound drivers and for westbound drivers by way of US 24/285 through the Salida area from the Front Range. (Please note, there is construction on US 24 over Trout Creek Pass east of Johnson Village in Chaffee County into early March; some blasting and up to 30-minute delays may be encountered.) Cottonwood Pass in Eagle County and Independence Pass are both closed and not available as alternate routes. Frying Pan Road and Hagerman Pass are not recommended alternate routes.