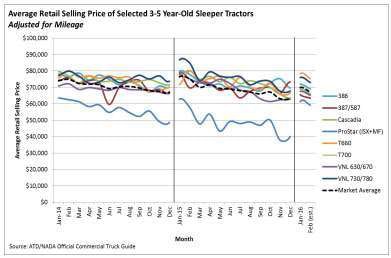 Low trade-in values are keeping many buyers out of the truck market, and dealers are reluctant to chop pricing to entice buyers off the fence, according to commercial truck analysts at NADA Used Guide, a division of J.D. Power and Associates.
Chris Visser, senior commercial truck analyst at NADA Used Car Guide, says pricing for all trucks of model years 2011 to 2013 dropped 11 percent from December to January, and predicts February's results will show little movement.
"If this prediction holds true, the first two months of 2016 are running about 9 percent behind the fourth quarter of 2015," he says, "on par with our prediction of roughly 4 percent depreciation per month."
Commercial truck auction volumes bounced back to typical activity levels last month – on par with the second half of 2015 – with stable pricing.
Visser adds trucks sold retail continue to perform stronger than those sold wholesale, with a slight dip in January. Sleeper tractors of model years 2011 to 2013 lost 5 percent of their retail value from December to January and preliminary February data points to another 4 percent loss month-over-month.
On a model-by-model basis, the Kenworth T660 started out 2016 in the lead, followed closely by the Volvo VNL 730/780. Visser says these models, along with the Peterbilt 386, have generally been at the top of the aerodynamic sleeper market in terms of pricing.
"It is no coincidence that these are generally the lowest volume sleepers sold in a given month," he adds.
The International ProStar, which has seen strong pricing for ISX-equipped 2014 models, appears to be on par with competing models, and was enough to substantially improve the ProStar's 3-5 year-old average, Visser adds, while other model years and configurations of the ProStar continue to perform similarly to previous months.
Earlier this week, Navistar CEO Troy Clarke said the company's used inventory is higher than planned and noted the truck-maker would continue initiatives "to manage it down over the next several quarters."
Used truck inventories are the highest they've been in more than 15 years.
"At a time of industry-wide oversupply and a slowdown in used sales, our used truck inventory increased $50 million to $440 million," Clarke says.
Beginning in February, added Bill Kozek, Navistar's president, Truck & Parts, the company has already seen an increase in used activity and sales across all its channels.