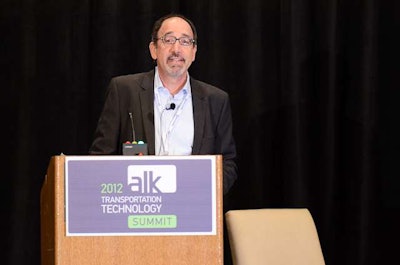 ALK Technologies will hold its annual Transportation Technology Summit May 23-24 in Philadelphia. This marks the first time in the event's 12-year history that it will be held outside of Princeton, N.J.
In conjunction with the new location, the ALK Transportation Technology Summit will feature a new, compacted schedule. All of its main-stage and focused breakout sessions will take place over a single day.
"It was important to us to make our content more impactful and have a more convenient location for our attendees," said Dana Petrone, senior marketing manager at ALK. "We're 15 minutes to a major transportation hub in Philly, making it easier to get to the event. And by streamlining the schedule to one day, we're able to pack in just as much content while limiting the interruptions to peoples' busy schedules. We're really excited about these changes and the new energy they'll bring to the Summit."
The ALK Transportation Technology Summit will feature four panel sessions covering the transportation and trucking industry's most pressing issues:
Information Explosion: Tech Perspectives on Data
From Cab to Capitol Hill: The State of Safety
Trucking's Next Generation of Leadership
The Driver: Our Best Asset
Panelist in these discussions will include representative from such leading companies as: Celadon Trucking, Pitt Ohio, Pride Transport, Roadrunner Transportation Systems and Roehl Transport.
Panel moderators represent top industry publications and associations, including Dave Osiecki from the American Trucking Association and Aaron Huff with Commercial Carrier Journal.
"Once again, our lineup of panelists and moderators includes some of the premier thinkers and players in the T&L space," said Petrone. "These are the people who are setting the standard for trucking today and building the future of the industry one technology, driver, safety-feature and story at a time."
CarrierDirect will also give a special presentation on the increasing collaborative efforts between shippers and carriers, and how both sides of the equation can benefit from such relationships.
View the agenda and confirmed speakers online at http://www.alktechsummit.com/agenda.html.
Registration is now open at https://www.cvent.com/en/event-management-software/free-trial.