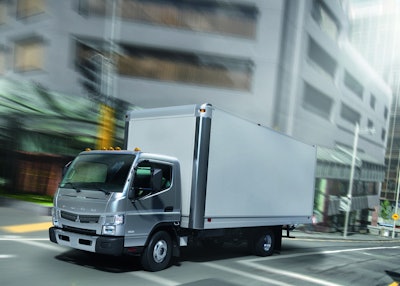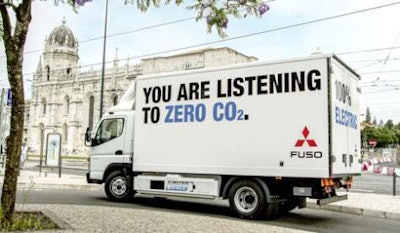 Mitsubishi Fuso plans to showcase its all-electric-powered FE-Series medium-duty cabover work truck during a months-long North American tour this year, the company announced March 2 at the NTEA Work Truck Show in Indianapolis.
The truck is on display at the show this week as a soak test meant "to ascertain the level of interest in an electric work truck" in the U.S. market, the company said in its announcement. Extensive testing by fleets of the e-powered truck has been conducted in Portugal, Fuso says, and the company plans further testing in Japan in 2016 and deployment at a Japanese fleet in 2017.
The company did not offer specifics on times or places for its U.S. tour.
The truck's range right now is about 60 miles on a charge, Fuso says, so the current version likely won't be the model that Fuso tries to enter into the U.S. market.
Fuso touts the truck's savings in operational costs — stemming from the lack of need to buy diesel — and its reduction of carbon dioxide emissions as its key benefits.