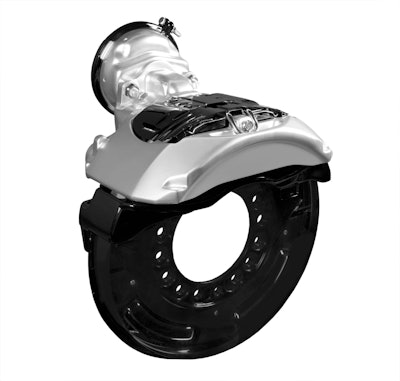 WABCO Holdings Inc. said Wednesday it has started delivery of its MAXX air disc brakes (ADB) to Daimler AG for use on the company's heavy-duty truck platforms, including Actros, Antos, and Arocs models.
WABCO has supplied MAXXUS air disc brakes to Daimler Trucks North America (DTNA) for series production since 2012. MAXXUS ADB is also based on WABCO's MAXX single-piston technology.
WABCO is supplying Daimler AG with the lightest air disc brake package for heavy-duty vehicles on the market. It consists of the company's breakthrough MAXX 22 ADB on the front axle and WABCO's new MAXX 22L ADB on the rear axle.
WABCO's MAXX 22L, a variant of the company's MAXX 22 ADB, features an optimized rear-axle design that requires less brake torque than air disc brakes for front axles. Compactly designed, WABCO's MAXX 22L is more than seven percent lighter than the company's MAXX 22 ADB, which has already been recognized as the industry's lightest and highest performing single-piston ADB for commercial vehicles.
WABCO's says its single-piston design contains approximately 25 percent fewer parts compared to other air disc brakes available on the market. WABCO MAXX ADB also feature easily exchangeable "plug and play" wear sensor technology, helping to improve reliability while lowering maintenance costs. In addition, WABCO's bi-directional adjuster optimizes brake lining wear.