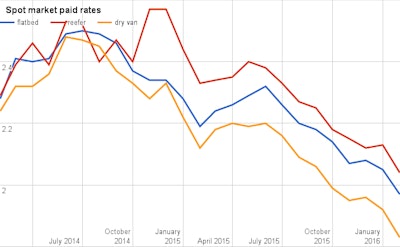 Per-mile rates on the spot market hit the skids in all three major truckload segments in February, according to monthly rate data from Truckstop.com, with all three falling to multi-year lows.
February's rate declines were the continuation of about a now 18-month-long trend, as flatbed, reefer and van rates have steadily fallen since peaking at record highs in mid-2014.
Changing market conditions and plummeting diesel prices have been the main drivers of declining spot market rates, analysts contend.
Paid rates, verified rate averages paid to carriers, for reefer haulers fell 9 cents in February from January to $2.04 a mile. That's a 29-cent drop from last February's per-mile average and the lowest monthly reefer average since February 2013.
Van rates in February also dropped 9 cents from January and were also 29 cents lower than the same month last year. It's $1.83 per-mile average was the segment's worst showing since April 2013. Van rates have now fallen every month since September.
Paid flatbed rates in February fell 8 cents from January and were down 22 cents from the same month in 2015. February's $1.97 average was the lowest in the flatbed segment since February 2013.