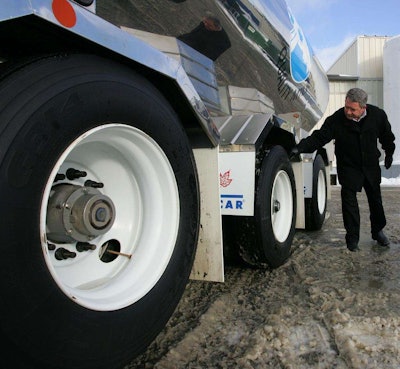 Complying with the Federal Motor Carrier Safety Administration's 396.11 regulation for driver vehicle inspection reports (DVIRs) is supposed to be simple, they say. Just follow four, easy steps:
Drivers conduct pre- and post-trip inspections
Drivers mark down safety-related defects
Drivers submit reports to management
Management schedules repairs before vehicles return to service
In the real world, these steps are loosely followed, if at all. Drivers are pencil whipping or altogether skipping the first three, and management is taking its own sweet time to act on the information.
At least that is what one might conclude by the share of maintenance violations in the agency's Compliance, Safety, Accountability program. Over the past 24 months, 51 percent of CSA violations are maintenance related with lights, brakes and tires the most common defects.
This analysis from CCJ publisher Randall-Reilly Business Media's RigDig Business Intelligence unit also shows that California has the highest concentration of maintenance violations, which account for 70 percent of the state's total.
Taking action
Electronic DVIRs are widely available in fleet telematics systems, and many fleets already use them as a companion app to their electronic logs.
Until last year, Nebraska Transportation Company (NTC) was using paper DVIRs. After it installed a telematics system from Zonar, drivers began taking Zonar's portable display unit outside the cab to use an application called Electronic Vehicle Inspection Report (EVIR). The app verifies that drivers actually did walk around the vehicle by requiring them to scan RFID tags placed in different zones in order to complete the inspection.
Information captured by the EVIR system also makes it "very easy to see exactly what is wrong," says Josh Lacy, director of operations for the Gering, Neb.-based fleet. Mechanics are instantly notified by email if drivers report defects, and have instant visibility to the location, driver, and time of the report.
"Drivers also like it because they know mechanics are seeing the information and not relying on someone else to pass it on down the road," he says.
In general, telematics providers are extending DVIR functionality outside the cab by using mobile devices and apps for the vehicle inspection process. MiX Telematics, for example, has a new forms-based application, MiX Go, that fleet customers can use to create a custom inspection process.
Inspection forms created in MiX Go can be set up to prompt drivers to capture pictures of defects and a signature to verify the accuracy of the report, says Pete Allen, executive vice president of sales.
Integration with maintenance
Besides capturing DVIRs electronically with mobile devices, the trend is moving towards using DVIRs as part of an integrated repair process.
Dossier Systems, a provider of fleet maintenance management software, integrates with Zonar's EDVIR to schedule repair orders for critical defects. The company also plans to integrate with more telematics providers this year, says Bob Hausler, vice president of marketing and technology.
"Once you get this process integrated and under control with an organization, there is nothing but good that can come of it. No one loses paper and everything gets followed up on," he says.
Decisiv has a cloud-based platform fleets are using to schedule and manage service events. The software integrates with their maintenance software and telematics systems to notify of equipment defects, and manage the repair process with a fleet's internal shop, dealer, or other third party service provider, says Michael Reimer, vice president of product and channel marketing.
When a DVIR contains a defect, TMW Systems can send a notification to the shop to schedule a repair and notify dispatchers. For safety-related defects, its software systems — which include both fleet maintenance and dispatch systems — can prevent the trucks from being dispatched until repair work is completed, says Ronaldo Alders, principal of TMW's Asset Maintenance System for fleets and service centers.
EBE Technologies' new SHIPS Vehicle Maintenance Solution (VMS) has a number of integration points for electronic DVIRs. Besides using VMS to schedule repairs, fleets can hold drivers and maintenance personnel accountable for detecting and fixing problems by comparing DVIRs with CSA violations found during roadside inspections, says Larry Kerr, president.
Through integration with dispatch systems, VMS can send automatic reminders to drivers through any third-party telematics system if the driver is dispatched without completing a DVIR, he says. EBE can also include DVIR compliance as a metric in the driver scorecards it maintains for fleets, as part of a separate EBE application.
With the added pressure from the CSA program to stay on top of vehicle maintenance, interest is growing in technologies to increase DVIR compliance and make the process more effective and efficient.