CCJ's Indicators rounds up the latest reports on trucking business indicators on rates, freight, equipment, the economy and more.
---
Spring brings growth to reefer, van: Spring sun and rising temps are bringing with them growing freight volume, reports DAT this week in its weekly spot market update. About two-thirds of U.S. states are on the edge of tilting or have already tilted reefer rate momentum in carriers' favor, says DAT's Ken Harper.
"Something like 29 states are showing load-to-truck ratios of 2.3 to 5.5," Harper said. "Three loads for one truck is when the teeter totter starts tipping in the carrier's favor."
Particularly in the South and Southwest, reefer and van freight volumes are picking up after a dreary January and February, Harper notes. "For vans, the SEC states are looking pretty strong – Arkansas, Mississippi, Alabama, Georgia and South Carolina," Harper says.
Here's a look at heat maps for both segments, relative to load-to-truck ratios: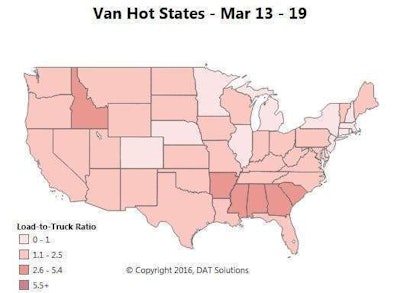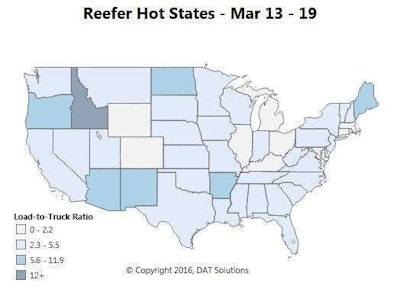 ---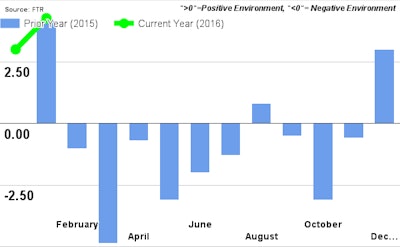 Shippers conditions in January rose on heels of dipping freight, loosened capacity: Market conditions for shippers, as measured by FTR's monthly Shippers Conditions Index, improved in January, FTR reported this week, given the balance of freight demand and available capacity.
However, as reports for months already in the books and throughout the rest of 2016, downward pressure will be placed on shippers conditions — and upward pressure on conditions for carriers — as capacity tightens. Coming regulatory mandates, such as the industry's electronic logging device mandate, will also put downward pressure on the Shippers Conditions Index, FTR notes.