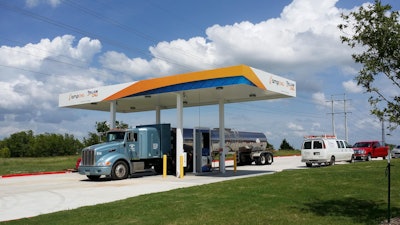 Love's Travel Stops has officially acquired Trillium CNG and its 37 natural gas stations, giving Love's a total of 65 public-access compressed natural gas locations.
"Trillium CNG brings 20 years of knowledge and skill in the CNG industry to the Love's Family of Companies and we're proud to have them on board," said Frank Love, co-CEO of Love's. "The addition of Trillium bolsters the CNG dimension of Love's customer offerings and brings enhanced, fleet-focused services from the Love's organization to CNG customers."
Trillium customers will be able to take advantage of Love's programs such as the My Love Rewards loyalty program, Love's Truck Tire Care, Love's Financial and more.
As a result of the purchase, Love's will now handle a project for the Pennsylvania DOT to build 29 new natural gas stations in the state. Trillium was awarded the contract this week and will enter into a 20-year public-private partnership with PennDOT in which Trillium will design, build, operate and maintain 29 CNG facilities in Pennsylvania.
"This is an expansive project that will provide cleaner-burning fuel at a stable cost for transit authorities and residents in dozens of communities," said Bill Cashmareck, general manager of natural gas for Love's. "This agreement highlights Trillium's record of partnering with the public sector and we look forward to building on that strength."
The locations will supply CNG to more than 1,600 CNG buses at transit agencies across the state. The majority of the facilities will be for private use, but seven locations will serve the motoring public, including light, medium- and heavy-duty trucks. The locations will be constructed over the next five years.