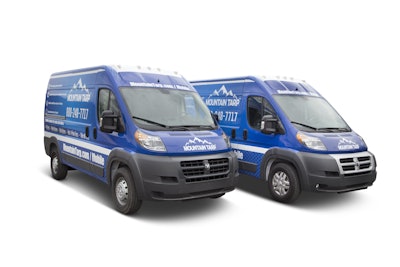 Mountain Tarp has launched a mobile service program for on-site inspections of truck and trailer tarping systems and parts delivery.
Mountain Tarp recently outfitted two Ram ProMaster 2500 cargo vans to cover Ohio, eastern Kentucky, and West Virginia with service for flip tarps, flat bed systems, cable systems, side-roll tarps, and rack-and-pinion tarps.
"Tarps take a lot of abuse, in all sorts of extreme environments, and timely repairs and/or replacements reduce downtime and boost productivity," says John Defenbaugh, president of Wastequip's mobile products division, which includes the Mountain Tarp brand. "With this new mobile service program, we'll be able to service our customers right at their own facilities, diagnosing potential problems before they sideline their trucks, as well as provide onsite parts delivery to get trucks and trailers back on the road quickly."
In addition, common parts and components will be available off the van, and special order parts will be delivered directly to the customer's location.