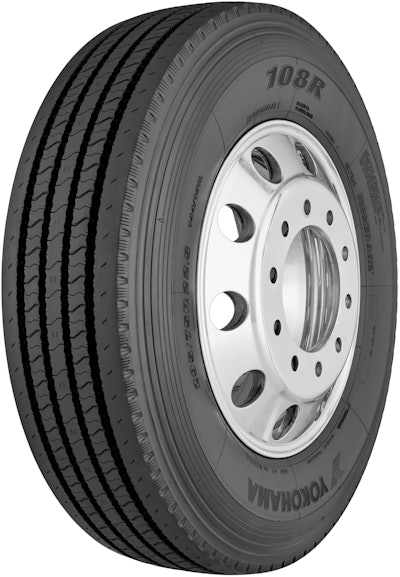 Yokohama Tire Corporation announced Friday its new SmartWay verified 108R regional all-position/steer tire is now available to fleets in the U.S. and Canada. The 108R comes in sizes 295/75R22.5, 285/75R24.5, 11R24.5 and 11R22.5.
Dan Funkhouser, Yokohama director of commercial dealer sales, says the 108R gives fleets a competitive edge for extended regional-haul and urban high-scrub applications "thanks to its deep, 22/32nd tread depth and 16-ply construction … the 108R will consistently deliver more miles and more profits."
Yokohama says the benefits of the 108R include longer service, achieved via a five-rib tread design, which offers longer, more stable service life while enhancing water dispersion and overall traction on the road, and maximum durability from Yokohama's special STEM-2 (StrainEnergy Minimization) technology, which extends the life of the casing by directing normally destructive stress forces away from critical bead and shoulder areas, minimizing flex in the casing.
Additionally, a sidewall abrasion guard reduces damage caused by accidental curbing and scrubbing in urban applications, and rock shield platforms keep rocks and debris from reaching the bottom of the groove where they can cause premature casing damage.