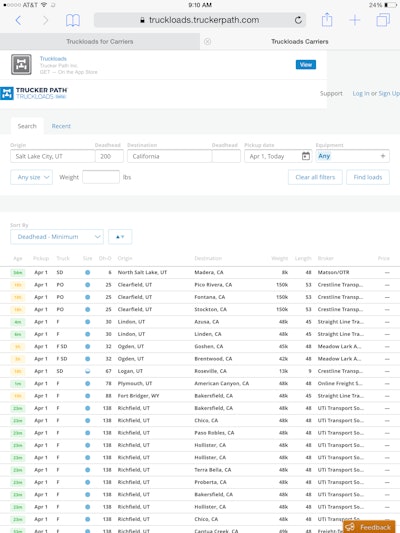 Trucker Path, creators of a trip-planning app for truck drivers with a million downloads, announced the public availability of a new freight marketplace supported by a large community of freight companies and motor carriers.
The new Truckloads marketplace is available to all freight companies and motor carriers as a free download for Android & iOS devices and as a web version at www.truckloads.truckerpath.com.
The company says that freight companies can access available trucking capacity across North America. Motor carriers can find and book loads with free access to "days-to-pay" credit scores on freight companies.
The general release of Truckloads follows a beta testing period in which the app was downloaded 25,000 times and is on pace to achieve 10,000 weekly active users and sustain 15 percent weekly growth.
Currently, 300 freight companies are posting over 800,000 loads per month using the Truckloads platform, and Trucker Path expects 325 more to join in the near future. Freight companies that join gain immediate access to more than 150,000 owner operators who have already installed and enabled the PRO version of the popular Trucker Path app. As an added benefit, freight companies get instant access to "verified locations" of available trucks.
On the capacity side, a new feature in Truckloads lets motor carriers inform customers of their availability status. On March 30, this new Truck posting feature will be available on the Trucker Path app for Android with a later release date planned for the Truckloads app and for the iOS version of Trucker Path.
Trucker Path also announced a Fuel View enhancement to its Trucker Path PRO app that gives drivers real-time visibility to fuel prices on a map view. According to research collected from Trucker Path's user community, drivers save approximately 51 minutes per trip using the app's trip planning tools, which translates to $600 monthly. Fuel View aims to save drivers even more, it says.