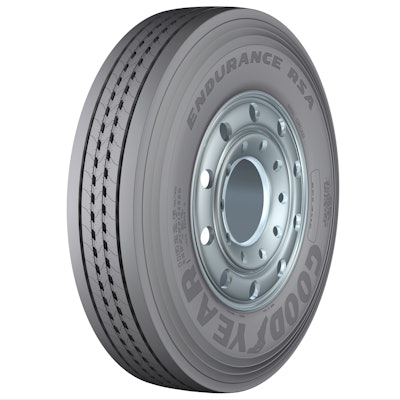 Goodyear has rolled out a new tire in the company's Endurance truck tire line, the Goodyear Endurance RSA, which targets regional and urban delivery fleets.
"The Endurance RSA is our best all-around tire for regional and urban delivery applications," says Norberto Flores, marketing manager, Goodyear. "And it is an important part of the Goodyear Total Solution, which helps fleets lower their operating costs."
The tire offers more miles to removal – plus lower rolling resistance and more resistance to curb impact damage – than its predecessor, the Goodyear G661 HSA.
Other features include Goodyear IntelliMax Rib Technology, with contoured sipes for ideal tread stiffness when the Endurance RSA rolls through its footprint. This helps provide regular wear and high mileage potential, plus optimal snow grip; An innovative tread design that boasts computer-optimized footprint and deep tread depth for excellent mileage; Goodyear steel casing with super-tensile steel belts for extra toughness and durability; A dual-layer tread compound for improved fuel economy and greenhouse gas compliance; and a premium casing for optimal retreadability
The Endurance RSA is available in size 11R22.5, Load Ranges G and H. Goodyear will introduce more sizes throughout the year.