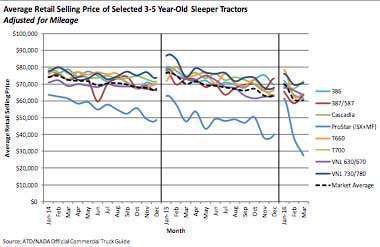 Sleeper tractors between 3 and 5 years old lost an average of 2.5 percent of their retail value from February to March according to data released Monday by American Truck Dealers (ATD), and the organization's top analyst expects that trend to carry forward from March to April.
"We expect minor volume improvements in upcoming months, as better weather and lower prices bolster demand," says Chris Visser, senior analyst and product manager, commercial vehicles for J.D. Power. "Retail prices continue to decrease, and perhaps as a result, buyers are entering the market in incrementally greater numbers."
Dealers reported an incremental increase in sales of used trucks from February to March, from 4.8 to 4.9 trucks sold per rooftop. The first quarter of 2016 trailed the first quarter of 2015 by 0.2 trucks. Freightliner Cascadia and Volvo 730/780 were the price leaders at just more than $70,000 each.
Late spring and early summer months, Visser says, could see incremental improvements in demand as lower truck prices lure some buyers off the fence.
"The U.S. domestic economy is still generally sound, with most macroeconomic measures trending incrementally upward," he adds. "It will be a few months before the uncertainty of the nation's presidential election season starts to impact business activity."