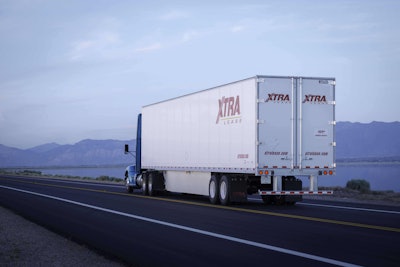 XTRA Lease, the nation's leading provider of semi-trailer rentals and leases, has ordered approximately 6,000 new trailers for 2016, adding a mix of dry vans, liftgated vans, reefers, flatbeds and chassis. New trailers will arrive at each of the company's 50-plus rental locations throughout the year.
XTRA Lease's 2016 purchase includes 53-, 48- and 57-foot dry vans; 53-, 48- and 28-foot liftgated vans; 53-foot auto drop vans; 53- and 48-foot reefers; 53-foot spread-axle straight frame and single-drop flatbeds; 48-foot tandem slider, spread-axle and single-drop flatbeds; and 20/40-foot tridem chassis and 20-foot tridem extendable chassis.
All 53- and 57-foot vans and reefers will receive fuel-saving aerodynamic side skirts, low-rolling resistance tires and trailer tracking units to help fleets improve utilization and costs, the company says.
XTRA Lease says it has added more than 40,000 trailers equipped with aerodynamic side skirts and low rolling resistance tires and nearly 70 percent of its over-the-road fleet is 2012 and newer.