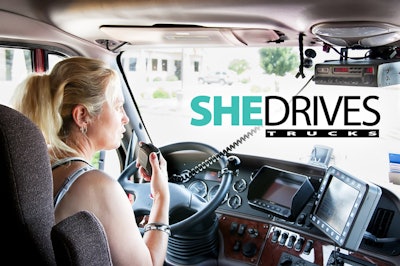 She Drives Trucks, a newsletter produced by the editorial team of Truckers News, launches May 25 to serve female company drivers and owner-operators and provide fleets a direct outlet for recruiting them.
The more than 200,000 women driving trucks, making up about 6 percent of that workforce, have helped meet the industry's continual need for new drivers in recent decades. However, as the driver shortage continues, many fleets have stepped up their efforts to reach women and other demographic groups that have not been a big part of the traditional driving workforce.
Sent weekly to 50,000 female drivers, She Drives will address the unique issues women face on the road, including personal safety, health concerns and the best driving jobs for women. Through the newsletter, website and social media, She Drives will also offer a community for women drivers to share their experiences and tips for surviving and thriving in a challenging industry.
"We're launching She Drives to address a need for content that speaks directly to women drivers," says Linda Longton, senior vice president, editorial, for Randall-Reilly, which publishes Truckers News and She Drives. "These are professionals who made a conscious decision to pursue a career in a male-dominated industry, even knowing the challenges they would face. She Drives helps them address those challenges and have a little fun at the same time."
An advisory board of successful women drivers is being assembled to help shape the direction of She Drives. Based on input from the board, editorial coverage will include:
Profiles of women drivers.
Guest commentary from women drivers.
Articles on staying safe on the road.
Health and fitness issues.
Best driving jobs for women.
Equipment and products tailored to women's needs.
Ways to make a big rig a home away from home.
A mix of serious and fun topics presented to get great conversations going.
Female drivers interested in joining the advisory board or fleets wishing to nominate one of their women drivers should contact Editor David Hollis, davidhollis@randallreilly.com.
Subscribe to the free weekly newsletter or visit the website.