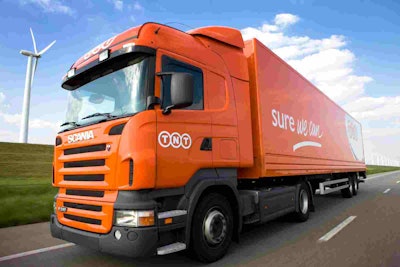 FedEx Corp. (No. 2 in the CCJ Top 250) announced May 25 it has finalized its roughly $4.4 billion deal to acquire European carrier giant TNT Express. FedEx announced the acquisition last April, and the U.S. Federal Trade Commission stamped its approval on the deal in November.
The May 25 purchase settlement concludes FedEx's acquisition of 88.4 percent of TNT's shares, purchased at 8 Euros each, about $9 a share, for an aggregate value of 3.879 billion Euros, or about $4.4 billion.
Amsterdam/Hoofddorp will be the European regional headquarters of the combined companies. TNT Express' hub in Liege, Belgium, will also remain a significant location for the group going forward.
"This acquisition is a significant accomplishment and marks the beginning of a new era, filled with promise for our people, customers and shareowners," said Frederick W. Smith, Chairman and CEO of FedEx. "We are proud to celebrate the joining of two iconic companies and the approximately 400,000 team members who are committed to serving customers around the world."