To support his large family during the Great Depression, W.W. Estes of Chase City, Va., started to haul farm supplies in 1931 with a used Chevy truck.
The trucking business supplemented his farming income, and in 1938 Estes opened the first two branches of Estes Express Lines in Richmond and Norfolk, Va.
He needed a loan to buy more trucks, and as the story goes, a banker told Estes he could get the loan if he chose between farming and trucking. "You can't do both."
Estes pulled out a coin from his pocket. If the coin toss was heads he would be a trucker, and with tails, a farmer. As fate would have it, the toss was heads.
Today, Estes Express is the largest privately held less-than-truckload carrier in the United States with 2015 revenues of $2.3 billion and 7,700 drivers.
A grandson of W.W. Estes, Billy Hupp, shared the story during a keynote address at the ALK Transportation Technology Summit, May 24, in Philadelphia.
As chief operating officer and executive vice president of the family-owned business, Hupp is involved in a lot of decisions, but none are made by tossing coins.
LTL service is the "mothership" of Estes, and the Richmond, Va.-based carrier has grown significantly with specialized services that include time critical, out-of-town residential moves, dedicated and freight forwarding. Later this year, the company plans to add a "technology based final mile product" called Estes Final Mile (EFM) to take advantage of opportunities in e-commerce, he said.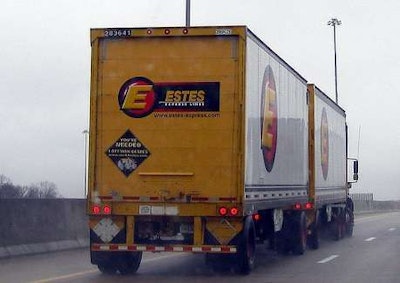 Hupp discussed equipment innovations that give Estes a service and efficiency advantage. It has a fleet of captive beam trailers. The interior walls are made of steel with "punched-in" holes for strapping loads, setting load bars, and adding a second deck, as needed, by sliding the captive beams down from the ceiling.
This same captive beam system is being used in its container fleet, giving Estes a unique capability to offer secure, damage-free deliveries for ocean shipments, he said.
Its forklifts are now mobile workstations equipped with computer terminals to run its AS400 cross dock management system. The forklifts have a shrink wrap holder, an air hose to inflate airbags used to secure freight, and other items to "keep guys more effective, efficient, and not wandering the dock looking for tools," he said.
As for business challenges, Hupp said that effectively tracking more than 130,000 shipments a day that pass through Estes' 215 facilities is an ongoing effort. Freight costing is another challenge as the freight profiles that cross its docks are always changing.
Estes uses freight dimensioners – machines that scan freight – to capture volume (cube) and density of shipments. This data is combined with the weight from scales on forklifts and sent to a software system that identifies any differences between the characteristics of actual shipments and those listed on freight bills.
The company is now in the process of rolling out a scanning system at cross docks to identify freight as it enters and leaves trailers. This new system helps eliminate missed loads due to misplaced paper freight bills.
"We want to become a paperless freight flow company," he said. "This is a real game changer for us."
Hupp discussed other technologies Estes uses like a pickup and delivery (P&D) app it designed and PeopleNet built to increase shipment visibility, driver communications, and to optimize routing.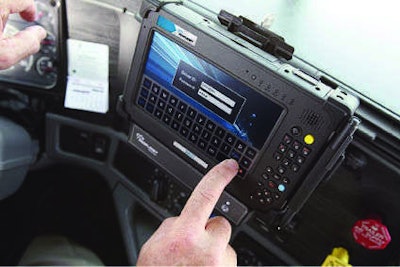 Using telematics data from its PeopleNet fleet management platform, Estes created a performance and safety (PAS) scoring system. Drivers receive a daily score, and use the information and coaching to improve fuel efficiency and safety. MPG has gone up by 15 percent in the last three years, he said, from an average of 6 mpg to 7.1 mpg.
"That allows us to be competitive in the marketplace."
For years, Estes has been locked into a cumbersome legacy system, but is now the process of converting to a more modular enterprise resource planning (ERP) software. This is not an easy project, he stressed, and compared it to the difficulty of changing a tire on a moving trailer.
To help prepare for what lies ahead in the future, Estes has assembled an "in-house incubator team" of "whiz kids."
"Eighty percent of their ideas are crazy, but 20 percent are engaging and good," he said. The team is currently focused on the e-commerce revolution and on technology that could disrupt the supply chain, like 3D printing, with the potential to reduce demand for transportation. The team also is looking at how Estes could use new "smart freight" technology like beacons.
"We've got to be aware of those things," he said. "Developing our technology capability is going to be the difference maker in the market."
He ended his remarks describing Estes as an opportunistic company.
"If something looks like it might make sense we will try it. Sometimes it works and sometimes it doesn't," he added. "We believe that a quality product, prideful employees and our trustworthy mantra will move us forward."
Other speakers and panel discussions at the ALK Technology Summit touched on strategies for cultivating the next generation of leaders in trucking, driver retention, big data and safety technology.