CCJ's Indicators rounds up the latest reports on trucking business indicators on rates, freight, equipment, the economy and more.
---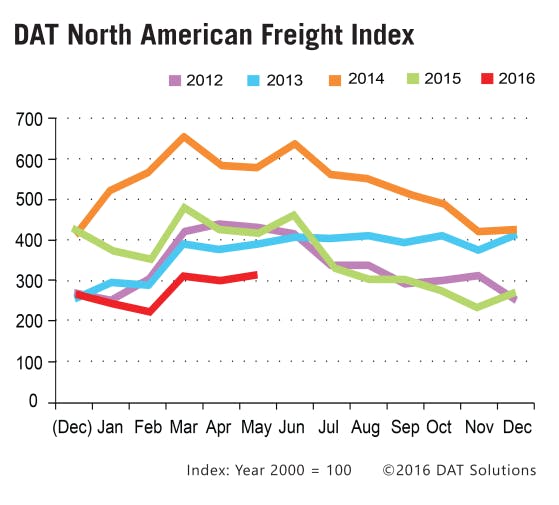 Spot market freight availability climbed in May: Freight availability on the spot market grew 19 percent for both dry van and reefer segments in May from April, according to numbers issued last week by DAT. Flatbed volume was down 10 percent from April.
Overall spot market freight volume increased 5 percent, DAT reports. However, compared to the same month last year, overall freight availability was 25 percent lower. "Contributing factors include vastly increased contract carrier capacity and intermediaries tendering exception freight to their core carriers," DAT notes in its report.
Spot market rates in May increased 1.5 percent for van and 4.3 percent for reefer, while flatbed rates fell 0.6 percent month over month.
Year over year, however, things aren't as bright, with rates in all three segments more than 25 percent lower than in May 2015.
---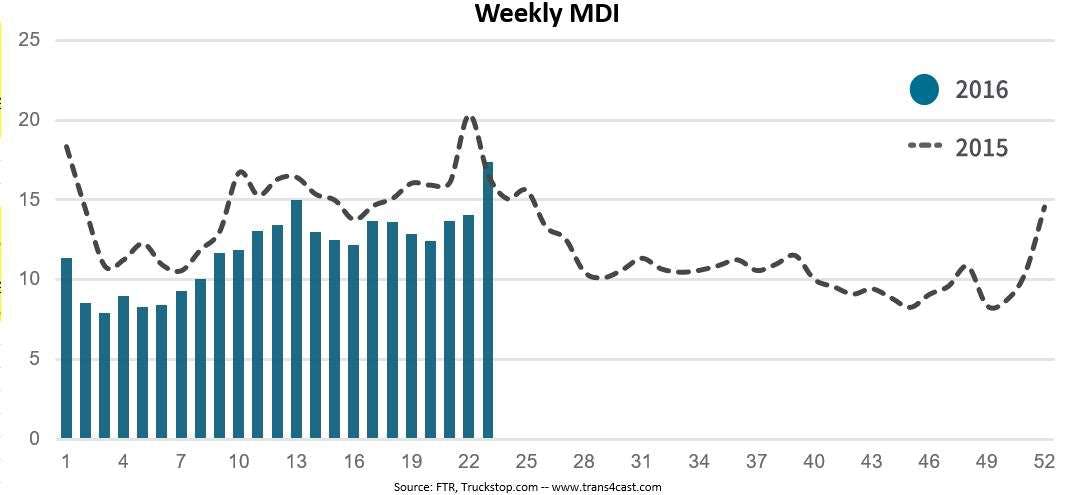 And then there's last week: Load availability shot up 34 percent on the spot market in the week ending June 13, according to weekly spot market data provided by Truckstop.com. The jump in freight volume, coupled with a Roadcheck-caused decline in truck availability, drove Truckstop.com's weekly Market Demand Index to its highest reading of the year, signaling a strong swing in spot market favorability toward owner-operators.
Rates also followed suit, jumping 1.5 percent from the week prior across the board, according to Truckstop.com data.
Though load availability and rates were down from the same week in 2015, the overall MDI — a cross measurement of load availability and truck availability — was up 5 percent from the same week last year. This is the first time in 2016 that the MDI has seen such a year over year gain.