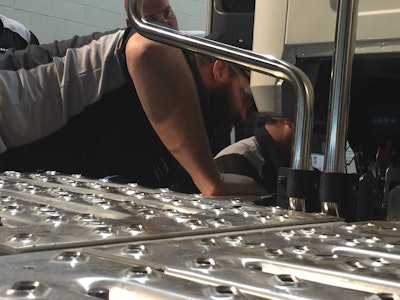 Anyone who's ever parked an out-of-service truck in a repair bay scored a win late last year, as the independent aftermarket and dealers of competitive makes were finally granted access to formerly proprietary heavy-duty repair information as of Jan. 1 this year.
A year ago in September, Commercial Vehicle Solutions Network (CVSN) and the Truck and Engine Manufacturers Association (EMA), along with the Equipment and Tool Institute, the Auto Care Association, and Heavy Duty Aftermarket Canada, announced the signing of a Right to Repair Memorandum of Understanding (MOU) on access to heavy-duty service information for late model trucks sold in the U.S. and Canada.
The MOU, which EMA Vice President Tim Blubaugh, says has been implemented and is being followed by OEMs, also requires OEMs to license this information and the associated tools at "fair and reasonable" prices.
"The MOU establishes a workable approach to providing an independent service provider with access to information they need to repair heavy-duty vehicles properly and safety," says Jed Mandel, EMA president. "The MOU was developed to address concerns expressed by independent service providers that they have better and more-timely access to OEM-controlled information. The MOU helps ensure that access, thereby eliminating any need for state, provincial, or federal regulation."
That may sound like a lot of legal wrangling but the landmark MOU ensures that vehicle owners and independent repair facilities have access to OEM-controlled service information, tools and parts that they need to safety and properly repair commercial vehicles.
"The truck owner is getting a faster response," says Marc Karon, Commercial Vehicle Right to Repair Coalition chairman and president of West Palm Beach, Fla.-based Total Truck Parts. "They also now have an opportunity to shop for better value, better service and better pricing."
When Karon and the team at CVSN team started to look at how they could unlock then-off-limit service opportunities, they studied how many heavy truck dealerships were located in a given state and then approached state legislators with their findings.
"It shocked us when we actually laid it out on a map that there are a whole lot of areas where there isn't a dealership within 100 miles of a guy that owns a truck," Karon says. "When these [onboard] computers fail, sometimes you can't even drive the truck, so you have to have the truck towed to the dealership, which is a lot miles to tow them 100-150 miles."
For example, Karon says his West Palm Beach, Fla., facility is 70 miles from the nearest Detroit dealer.
"[Prior to the MOU], I would have to have a truck towed to the Detroit dealer, pay them a couple hundred bucks, have it towed back and then stick the customer with a $300 to $400 tow bill on top of the repair, which may be $50," he says. "Because of the MOU, I can buy that Detroit software and don't have to tow it up to Fort Pierce [Fla.]."
To compound the problem of proximity, being forced to remain within the dealer network put more pressure on dealer-licensed shops already overwhelmed by the amount of amount work coming in. This meant more downtime for customers.
To add insult to injury, prior to the MOU drivers who found themselves at a strange dealership with an out-of-warranty issue often had longer wait times.
"The typical trucker, his profitability is defined by how many days he actually works," Karon says. "When his truck is tied up for three or four days, he doesn't make any money."
Under the MOU, the aftermarket was granted access to diagnostic information for all vehicles built after model year 2009 weighing more than 14,000 lbs., including wiring diagrams, information locating sensors, the ability to reflash and reset onboard computers, as-built VIN to OE part number information and any specialized tools required to complete vehicle diagnostics.
"One of the significant benefits of the MOU is that it addresses the unique characteristics of the heavy-duty vehicle manufacturing industry, as well as the special needs of the independent heavy-duty repair shops," Mandel says. "With that accomplished, we can avoid a patch-work and potentially disruptive effort to regulate service information through government action."
Karon says unlocking that level of information put independent service garages on a level playing field with dealers and OE-branded service providers, but
Right to Repair wasn't just a win for independent repair shops. The same data now available to every diesel garage across the country is also available to every truck dealership in every state, regardless of OEM affiliation.
"People don't realize that a dealer can work on all makes," Karon says. "When they only have one nameplate, they're really hampered by this access to information challenge because they don't have the computers to be able to work on those particular vehicles. If you own a Mack and you pull into a Kenworth dealership on a hook and he doesn't have the computer software to fix your truck, he's no better than an independent service shop."
Until the MOU was passed, fleets, owner operators, and those responsible for maintaining newer model trucks had to take their power units back to a dealership for a number of repairs thanks to the increasing technological sophistication of the trucks' internal systems.
"I think the whole market benefits from [the MOU]," he adds, "and I think most dealers are happy about it."
"We were able to craft an MOU that benefits independent repair facilities and OEMs, as well as our joint customers – heavy-duty vehicle owners and operators," adds Dave Scheer, CEO at Inland Truck Parts and longtime advocate of independent provider access to service information.
At the turn of this year, technicians could purchase access and equipment they needed to make repairs on newer model trucks, and soon after this information hit the aftermarket Karon says customers began bringing in issues that dealers were unable to solve.
"Everybody just assumes that the dealer has the technicians that are perfect," he says. "Just like in medicine, every technician is not the same. Like every doctor isn't the same."
Widening the availability of the information also brought into play the expertise of repair professionals not accustomed to relying on such sophisticated technology.
"A lot of times you have to go beyond what the scan tool tells you," Karon says. "Not every dealership has the technicians, just like not every service shop has all the technicians, to solve all those problems. That really gives the truck owner an option of going where he feels he gets the best quality service … He isn't locked into to having to go to one guy. He can go to three or four of them, shop around, and that he can stay with until the problem is solved."
The MOU also cements the current practice of providing diagnostic tool information to third-party aftermarket tool manufacturers, in turn providing owners with service options when maintaining or repairing vehicles.
In addition, the MOU states that by 2018, each vehicle manufacturer will be required to provide access to their onboard diagnostic and repair system information system using a non-proprietary vehicle interface, and software that can run via the Internet on a commonly available personal computer – meaning that beginning next year, aftermarket service providers will be able to purchase any OEM-proprietary diagnostic software to use in their existing computers.
"A lot of people don't really appreciate just how hard it is for a truck owner with all the computers now that are now on trucks," Karon says. "With today's complex, computer-controlled heavy-duty vehicles, having access to the correction information and latest diagnostic tools is essential to being able to complete repairs for our customers. The MOU addresses our need for reasonable access to OEM service information and diagnostic tools. I am pleased that we were able to finalize a practical and workable solution through the MOU process."
While the MOU should already be making repair services easier to find for fleets and drivers, Karon says it isn't likely to make them any cheaper.
Generally, he says, labor rates for repair are priced competitively in their markets, but he adds rates for diagnostic services or computer reset services may come down since they now can be done anywhere.
"I don't think the majority of the customer base cares as much about the labor rate as much as we in the service business think they do," Karon adds. "They are about the quality of the repair and the speed of the repair."
"If they find a guy that they can drop off a truck at 9 o'clock in the morning and pick it up at 3 o'clock in the afternoon – and they don't have to bring it back – that's the guy they're going to support," Karon adds. "If they have to pay an extra $100 in the repair, I think they don't care that much."
CVSN formed a partnership with the National Automotive Service Task Force (NASTF) just months after NASTF began integrating heavy-duty vehicle OEM technical and diagnostic information into its programs offered on the NASTF website following the MOU.
As part of the partnership all OEM and supplier website links are indexed on the NASTF site directing commercial vehicle technicians to service information, tools and software.
The website also features a Service Information Request tool, which allows technicians to submit questions to OEMs when they are unable to find diagnostic and service information. Each request is then evaluated by NASTF and, if valid, is forwarded to the manufacturer in search of a resolution.
OEs and dealers voiced concern that proprietary information could be used to reverse engineer cheaper replacement parts, and whether independent technicians had enough training and equipment to correctly make repairs.
Under the terms of the MOU, the participating industry associations agreed to work together to monitor the exchange of service information and address any information access issues with the goal of helping to ensure that vehicles are properly and safely maintained with the correct parts and tools.
While OEMs are required to provide access to the information and tools, the MOU does not require them to provide training on how to use them. Karon says CVSN is working on a training program that would be cost-effective for businesses and technicians.
MOU also doesn't cover access to proprietary telematics information, but Karon says that's not generally a priority because the amount of data out there is overwhelming.
"Telematics is an evolving thing," Karon says. "A lot of big fleets are upst about telematics … because they don't want to share their data with the OE, first of all. Secondly, they're running mixed fleets. If you're running Freightliner, Kenworth and Mack in your fleet, you're getting three telematics reports and three separate things you have to deal with. A lot of fleets want one."
Barely six months into 2016, Right to Repair came under attack somewhat in one state with the introduction of a bill that would have mandated the use of OE parts on newer model vehicles.
Michigan Governor Rick Snyder vetoed HB 4344, which would have prevented the use of aftermarket and remanufactured parts on vehicles less than five years old.
While the opportunity to service those vehicles in the aftermarket and at competing dealerships was protected, the repair service would have been at the mercy of OE part dealers, part availability and their pricing.
In vetoing the measure, Snyder said the bill "overreaches in the limitation of aftermarket parts negatively impacting consumers and creating the potential for negative consequences for Michigan's automotive industry."