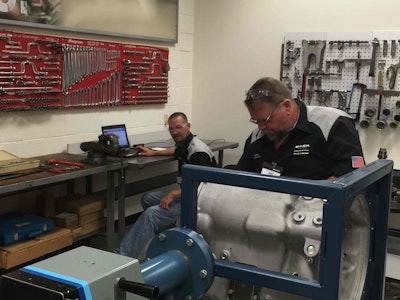 The Commercial Vehicle Solutions Network (CVSN) announced Monday its alliance with ProMech Learning Systems, Service Professionals Incorporated and WheelTime University, each of whom will provide training for technicians in the heavy duty truck repair market.
Each training company offers different options for training, either on-site, regional, or via the internet. In addition, the training is modular, covering all aspects of training from beginning courses, ASE certification, and more sophisticated training including engine repair and computer diagnosis and ECM reset.
Technicians can choose the level of training they require.
The Memorandum of Understanding (MOU) between the Engine Manufacturers Association (EMA) and CVSN has created challenges for independent repair technicians. As trucks become more integrated with computers, specific training will be necessary for technicians. While dealer personnel receive this training from the Original Equipment Manufacturers, the independent channel needed to create its own training sources.
"Even with improved scan tools and licenses from the OEM's for reset codes, lack of training can lead to improper repairs," says Marc Karon, CVSN Chairman of the Right to Repair Coalition. "CVSN thanks these three world class companies for stepping up and filling this void in the independent service channel."
As an association dedicated to finding commercial vehicle solutions, CVSN created these options with the intent of making this training available to everyone in the heavy duty aftermarket. CVSN has worked with the training providers to keep the costs down. CVSN members will receive an additional discount.