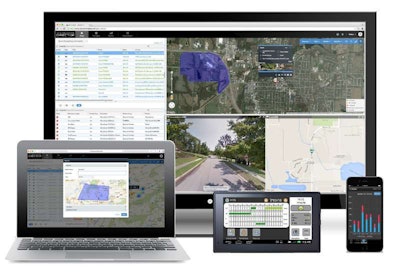 Teletrac Navman has introduced Director, the company's fleet management software platform designed to provide greater transparency and intelligence in asset tracking and data collection.
Teletrac Navman says Director, a Software-as-a-Service product, better ties drivers and assets in the field with back office personnel to allow better communication and decision-making to drive top-line growth, and other features improve safety and fuel efficiency to lower operational costs.
Key elements of the Teletrac Navman Director platform include fuel use tracking, workflow and documentation optimization, hours-of-service monitoring, messaging and routing and more. The Safety Analytics module can be tailored to a company's specific parameters to analyze driver behavior and performance and serve as a training aid.
Teletrac Navman is currently working on an electronic logging device module for Director with an expected early 2017 release date.
Director will be available as a subscription model ranging from approximately $30 per month for a basic asset tracking solution to $100 per month for the full suite of tools, including HOS compliance and driver coaching. Teletrac Navman says there is no upfront installation or hardware costs for the Android-based in-cab device that was developed in partnership with Garmin, but in most cases customers will sign up for a 36-month subscription contract period. In addition to the in-cab platform, drivers can access data on Android and iOS devices.
Director is the result of last year's merger between Teletrac, a provider of fleet management and driver behavior tracking systems, and Navman Wireless, provider of communication, workflow and navigation systems. Today, Teletrac Navman tracks more than 500,000 assets for 40,000 customers globally.
"The dynamic new platform offers capabilities that cater to a variety of market needs in regions around the world," says Renaat Ver Eecke, Teletrac Navman president. "The data provided in Director empowers businesses with the information they need to efficiently manage their fleets regardless of where their operations are located."
Ver Eecke says the company's target audience for Director is fleets with 50 to 500 trucks, a market he says is underserved in the North American transportation industry.