This year, Stephanie Rider has responded to an abnormally high volume of bid requests.
"Everyone is looking at making changes. Shippers want lower prices," says Rider, a rate analyst for Syfan Transport and Syfan Logistics. As a carrier, Syfan has 125 trucks based in Gainesville, Ga., with expedited dry van and refrigerated operations.
Alan Washburn, operations manager of Hoover, Ala.-based Universal Logistics Services (ULS), has also seen a steady flow of bid requests during the spring and summer.
"This is typically our slow season for bids. Most (bids) are the fall and winter," he says. ULS is a mid-size third party logistics provider with customers in retail, beverage and automotive industries. ULS also has a fleet that provides dedicated contract carriage.
According to the Cass Truckload Linehaul Index, contract freight rates fell by 1.6 percent in July, 2016, year over year (YOY). It was the fifth consecutive month of YOY decline. This year, pricing in the spot market has been well below 2015 averages.
As a sign of fleets adjusting to soft pricing and overcapacity, Class 8 truck sales in the United States dropped by 39.8 percent in July, YOY.
The need for technology
Bid packages from shippers and 3pls can be a time-consuming process with hundreds – and potentially thousands – of lanes to analyze and submit pricing for.
Some bids come in as emails with attached Excel files containing grids of lane data. Other bids require carriers and brokers to login to a website. Most of the online bid packages have an option to download an Excel file, Rider says.
Some bids do not include mileages for lanes and require look ups using a separate application. Carriers and freight brokers also have to find current market rates to compare with their own costs and margins in each lane to determine pricing.
After all of this analysis, the final step is to send the shipper a file in the original format in which it was received, which may require additional work.
Fast analysis
When receiving a large bid package, Rider says she will first narrow down the file to the lanes of interest for Syfan Transport and Syfan Logistics. She then imports a condensed file to the Pricing and Bid Management module that is fully integrated with the companies' LoadMaster and PowerBroker transportation management platforms from McLeod Software.
The module automatically imports mileage for each lane through an interface with standard mileage calculators, such as PC Miler from ALK Technologies. This mileage lookup saves hours that otherwise would be spent on manually entering origins and destinations into PC Miler, says Robbie Ranson, business development manager for ULS.
ULS also uses the Pricing and Bid Management module from McLeod, and recently completed a bid package with 600 lanes. All lanes were in a small region of the same state. The bid package contained zip code combinations for the origins and destinations but did not show the mileages.
Without the automated mileage lookup, "that would have been very difficult," says Robbie Ranson, business development manager. "I don't know how we would have approached it."
The module brings in market rates for each lane. One source for market rates is Market Insight, a rate index from McLeod that uses data collected anonymously from hundreds of carriers and brokers that use LoadMaster and PowerBroker. Additionally, the module brings in spot market rates from Internet Truckstop, DAT, and from the client's own historical data.
Syfan Transport and Syfan Logistics do not always have historical data for lanes it bids on. In these instances, Rider uses a feature to aggregate historical rates into "market areas" such as Atlanta to Dallas.
"That has had a huge impact on being able to see more accurate history. If I just consider the exact origin and destination, it will not always be an exact match," Rider says.
Completing the bid
Once the initial work is completed in the module, Rider exports a file to a custom spreadsheet to bring in additional data she imports from Syfan's LoadMaster and PowerBroker databases.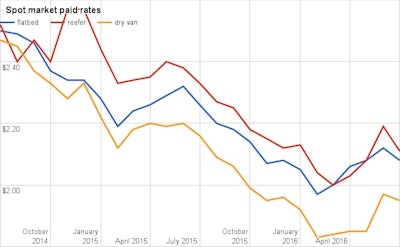 "I take a mean of the different indices and compare that to what we have done historically, to what we are currently hauling at, and to what our margins are," she says. "With the market changing, we are looking closer at how much it costs to run a truck."
With all of the information in one spreadsheet, Rider says she can determine "where we are and if have room to move or not."
Some shippers provide targets for each lane which helps to determine if, and by how much, Syfan Transport and Syfan Logistics can move its rates, she says.
Once the pricing is determined, Rider modifies the custom spreadsheet back to the original format required by the customer. Sometimes she will just copy and paste the rates, she says.
Representatives from both companies say the technology they use is helping to efficiently process the increased bid requests and make better pricing decisions.