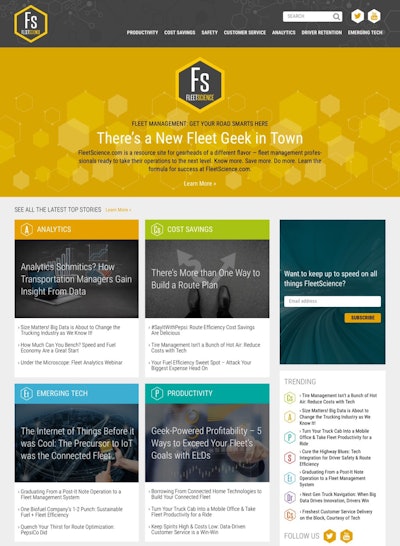 Omnitracs, a provider of fleet management systems to transport and logistics companies, launched an educational website designed for fleet owners and fleet managers.
Its new FleetScience.com digital hub showcases business best practices with a focus on how fleets are using both existing and developing technologies to do more with less and perform at a peak level.
The portal includes the topics of productivity, cost savings, safety, customer service, analytics, driver retention and emerging technology.
"Our successful launch of ELDfacts.com last year revealed the demand for useful and instructive resources on topics that are vital to our industry. In addition to the latest information on compliance, our clients were also interested in gaining insight into how to not just survive but to thrive with tight margins—while wowing customers at the same time," said Jim Gardner, vice president of marketing at Omnitracs. "To meet that need, we created this digital hub to provide proven best practices, foster collaboration and promote the development of new ideas about how fleet managers in every size organization can help their companies innovate and succeed."
In addition to articles about each of the areas of focus, the educational site also delivers its content through a variety of media formats, such as videos, infographics, image galleries, white papers and on-demand webinars.
The next phase of the program will add new content from third-party industry analysts and other experts to the digital hub.
Those interested in staying up-to-date on the educational content added to FleetScience.com can subscribe for email updates from the homepage of the website or follow @Fleet_Science on Twitter.