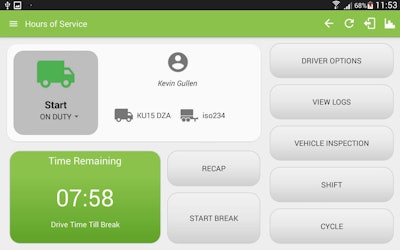 Isotrak announced the release of a new hours-of-service compliance application.
The new application has an intuitive, easy-to-use interface so drivers can focus on safety and their deliveries, the company says.
Isotrak says its Compliance application can integrate with existing workflows and device infrastructures, and has paperless reporting features to reduce overhead costs and administrative inaccuracies.
Additional features include:
Time-remaining displays, shipping information, duty statuses and drive distances
Access through Isotrak's online portal for back-office managers to monitor driver activities
Alerts sent to drivers through their mobile devices to avoid potential breaches of HOS rules
Color-coded panels that show drivers when they're required to be on- or off-duty
Isotrak also has a complementary Driver Vehicle Inspection Reporting (DVIR) feature, which allows drivers to submit pre- and post-trip vehicle inspection reports through their mobile devices.
The DVIR has the option to upload photos and comment on specific areas of a vehicle that need attention, and electronic signatures so drivers can review and sign off on repairs.