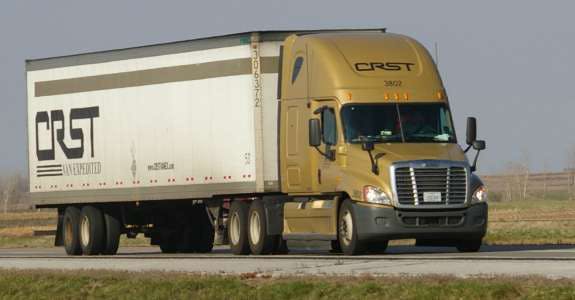 CRST International (No. 23 in the CCJ Top 250) announced this week its acquisition of Chino, Calif.-based Gardner Trucking (No. 67 in the CCJ Top 250), which CRST says is the largest acquisition in the company's history.
Gardner is considered the largest truckload carrier in California, according to CRST, with customers in the paper and packaging, food and beverage, wood products, and metal and plastic container industries. The company primarily services the western U.S. with facilities in California, Oregon, Washington, Arizona and Texas.
CRST projects the Gardner acquisition will add approximately $400 million in revenues to the company with its more than 2,400 drivers.
"The acquisition of Gardner Trucking further complements CRST's service offerings through Gardner's expertise in short-haul, local markets, as well as drayage and warehousing," says CRST President and CEO Dave Rusch. "We are thrilled to be working with the Lanting family on this acquisition and look forward to growing Gardner's operations in its markets."
Tom Lanting, Gardner's previous owner and president, will continue in his role as president of the company.
"The Gardner team looks forward to joining the growing CRST family of companies," Lanting says. "With the Gardner brand and its specialized service offerings, we look forward to offering our customers a wider range of services in more locations."
Rusch adds that Gardner allows CRST to enter the warehousing, drayage and regional van transportation segments of the industry.
"For CRST and Gardner, it means improved fleet utilization and increased operating efficiencies," Rusch says. "We look forward to working with the Gardner employees and customers."
In recent years, CRST has also acquired Specialized Transportation, Allied Special Products, BESL Transfer Company and Pegasus Transportation.