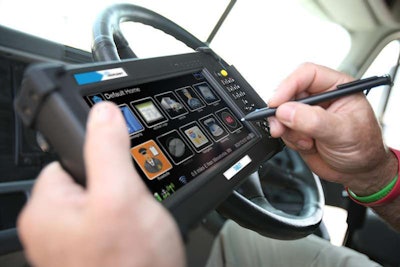 More than 65 percent of respondents to a recent American Transportation Research Institute (ATRI) annual survey listed the looming implementation date of the federal mandate on the use of Electronic Logging Devices (ELDs) as worrisome – enough to give the pending mandate the dubious distinction as the trucking industry's top concern.
The agency revealed the results of its latest survey, which includes the list of the top critical issues facing the North American trucking industry, at the 2016 Management Conference and Exhibition of the American Trucking Associations (ATA) meeting in Las Vegas Monday.
Carriers' top concern about ELDs were that they could hinder productivity as full deployment of ELDs rolls out.
ATA Chairman Pat Thomas, who is also senior vice president for state government affairs at UPS Inc., says the results of ATRI's survey reflect what he's heard from carriers and drivers alike as he's traveled the country this year on behalf of ATA.
"The ever-increasing regulatory burdens placed on the industry, coupled with the sluggish economy, are creating challenges for trucking as we work hard to keep America moving forward," he says.
Hours-of-Service (HOS), the top concern for the last three years, slid one spot to No. 2 thanks largely to ongoing uncertainty of a final HOS rule.
The cumulative economic impacts of trucking regulations, a newcomer to the worrisome list, came in third and Thomas says reflects the industry's collective frustration with increasing and costly regulatory requirements.
The lack of available truck parking moved the issue up again this year to fourth place overall, and the state of the nation's economy rounded out the top five.
Here's the full Top 10 list:
ELD mandate
Hours-of-service
Cumulative impact of regulations
Truck parking
Economy
CSA
Driver shortage
Driver retention
Infrastructure funding
Driver distraction