Iowa Motor Truck Association President Brenda Neville was named the 15th recipient of the American Trucking Associations' President's Trucking Association Executives Council Leadership Award during the group's annual Management Conference & Exhibition in Las Vegas Monday.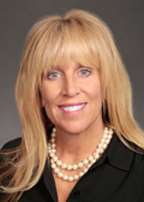 As head of IMTA, Neville led a successful campaign to raise Iowa's gas tax, has overseen the Iowa Motor Carriers Foundation which has distributed $180,000 in scholarships to young Iowans. She is also an annual participant in the Call on Washington program, has worked closely with LEAD ATA to develop future industry leaders and has on several occasions come to Washington to participate in ATA's state executive orientation program to help educate new state executives on how to run their association.
TAEC is comprised of staff executives of state trucking associations and conferences affiliated with the American Trucking Associations. TAEC serves to promote the trucking industry; contribute to the improvement of the associations and organizations established to serve the trucking industry; and advance the professional stature and capabilities of the managers and executives of such associations.
The President's TAEC Leadership Award was created in 2002 by ATA to honor a state trucking association leader and to create an enduring legacy for that leader and for the industry. The award comes with a $10,000 grant for a non-profit 501(c)(3) trucking education or research organization chosen by Neville.